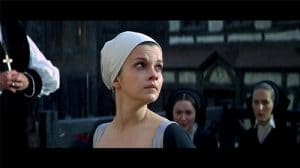 On this day in history, 19th May 1536, the feast day of St Dunstan, Queen Anne Boleyn was executed at the Tower of London.
Here at the Anne Boleyn Files and on our Facebook page, we are commemorating the 481st anniversary of Anne Boleyn's execution with a special Anne Boleyn Day of events in association with MadeGlobal Publishing and the Tudor Society. Please do get involved.
I've already shared two live talks on Facebook about Alexander Alesius's terrifying vision in the early hours of 19th May 1536 and about Anne's execution, so do catch up with those on the Anne Boleyn Files Facebook page. I'm over on the Facebook page right now (9am-10am UK time) to answer your questions and to have a chat. One lucky person joining in the chat there will be picked to win an Anne Boleyn Bottle cap necklace.
You can click here to read primary source accounts of Anne Boleyn's execution, but I'd like to share with you the video I made for last year's Anne Boleyn Day as I go into detail on Anne's execution and also her resting place. I've also done a special video talk over at the Tudor Society on primary sources for Anne Boleyn's fall and how you can access them yourself – click here to head over there and view it now.