Adrienne Dillard reads an extract from The Raven's Widow
Posted By Claire on May 19, 2017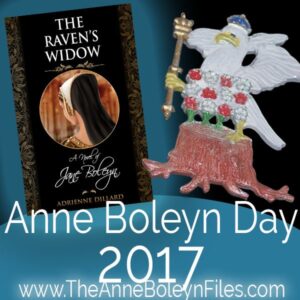 As part of our commemoration of the anniversary of Queen Anne Boleyn's execution on this day in 1536, historical novelist Adrienne Dillard has kindly shared this extract from her best-selling novel The Raven's Widow: A Novel of Jane Boleyn.
Thank you so much to Adrienne for taking the time to read this to us, she's such a talented writer, her work just draws you in, and for me, it's wonderful to see fresh takes on the Boleyns. You can find out more about Adrienne's book at getbook.at/ravenswidow.
Giveaway: We're offering one copy of Adrienne's novel and an Anne Boleyn Falcon badge brooch to one lucky Anne Boleyn Files visitor. Simply leave a comment about Adrienne's video underneath this post by midnight on 24th May 2017. One lucky comment will be picked at random and the winner contacted. Good luck!