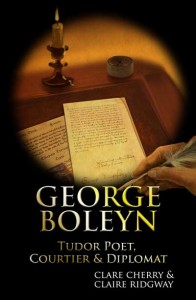 George Boleyn, Lord Rochford, was executed on 17th May 1536 after being found guilty of high treason. He was charged with committing incest with his sister, Queen Anne Boleyn, and of plotting with her to kill the king.
He is remembered for his part in the bloody events of May 1536, but he was far more than just the brother of Queen Anne Boleyn, he was also a favourite of King Henry VIII, a loyal servant to the king, a diplomat and a gifted poet.
As part of Anne Boleyn Day 2017 and to commemorate the executions of the queen and the five men, Clare Cherry, co-author of George Boleyn: Tudor Poet, Courtier and Diplomat talks to us about what we know about the real George Boleyn.
I know just how much research Clare did on George because I worked with her on the book. If you're interested in reading the book you can find out more at http://getbook.at/george-boleyn. If you'd like to be in with a chance of winning a copy of the George Boleyn book and an Anne Boleyn falcon badge, simply leave a comment on this post before midnight on 24th May saying what you found interesting about this video. One comment will be picked at random and the winner contacted.