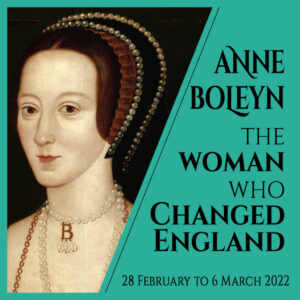 Right now I'm on a high after my three days of Anne Boleyn-themed livestreams.
It was wonderful to be speaking to many hundreds of people all over the world about the fascinating woman who is Anne Boleyn.
Over the last three days, I've challenged some of the many myths that surround Anne Boleyn and have answered so many brilliant questions about her. It was heart-warming to see how many people are interested in learning the truth about her, and getting at the facts behind the fiction.
I loved helping people deepen their knowledge of Anne and to say "bye bye!" to some of those assumptions that are so prevalent on social media. It was a huge honour and I loved every minute of it, and I know they did too!
Spreading the truth about Queen Anne Boleyn is definitely my mission so it was lovely to see so many people who were hungry to know more.
In my last two livestreams, I announced that the doors to my "Anne Boleyn the Woman who changed England" online conference (28 Feb – 6 March 2022) are open and I invited my viewers to buy tickets and attend.
I'm working alongside some of the very best historians on this event, people who are just as passionate about real accurate history as I am. We're brimming with enthusiasm and are all very excited about bringing you new information on a subject close to our hearts, and close to yours.
I haven't done a big online event like this before, but I know from the past few days what a difference sharing the truth about Anne Boleyn makes – a huge thank you for all the kind comments, messages and emails I've received.
The worldwide pandemic has stopped many people travelling to attend conferences and to see historians speak, so I'm excited to bring together eight historians in a virtual setting to be able to teach you online in the comfort of your very own home.
I already know you're interested in Anne Boleyn and her true story, or you wouldn't be following me and my work, and I'm guessing you're hungry for more information on her.
Anne Boleyn was a very different 16th century woman, wasn't she? Can you imagine the stir she caused at court when she arrived back from 8 years on the Continent? How sophisticated she must have been after spending her formative years at two Renaissance courts. Henry VIII may have come to the throne as a Renaissance prince, but I'm not sure he had anything on the Anne Boleyn of 1522!
I'm sure you'll agree that we can only truly understand Anne Boleyn, what made her tick and how a king became so obsessed with her that he changed the course of English history to possess her, by looking at her background and early life.
This part of her life is so often neglected, but historians Gareth Russell, Owen Emmerson, Kate McCaffrey, Lauren Mackay, Estelle Paranque, Natalie Grueninger, Sarah Morris and I are going to introduce you to a new Anne Boleyn. She will come alive before your very eyes and you'll come away with a new understanding and perspective of her.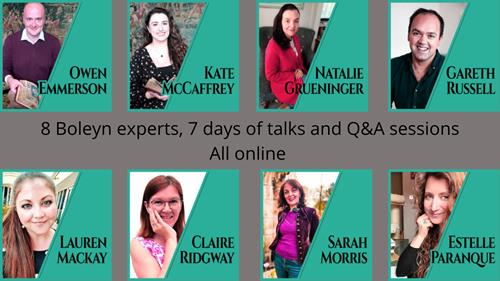 "Anne Boleyn, the Woman who changed England" is a week-long conference featuring historians whose work is grounded in the primary sources – proper, accurate history – and you'll learn through video lessons and live Q&A sessions.
Over the course of the week, you'll:
Find out why Anne Boleyn was far from the social climber fiction so often makes her out to be by delving into her ancestry and family background.
Discover the true Anne Boleyn who arrived at the English court in 1522 and turned the heads of a courtier, poet and king.
Understand why this maid of honour was so very different to her contemporaries, what made her tick and how she was a true Renaissance woman.
The event is a fitting commemoration of the 500th anniversary of Anne Boleyn's debut at the English court at the Chateau Vert Pageant on 6th March 1522.
Watch the 8 video lessons at your leisure – you will have lifetime access to them.
Attend the Q&A sessions and get your burning questions about Anne Boleyn answered by Anne Boleyn experts, many of whom were featured in the recent BBC series "The Boleyns: A Scandalous Family", and all of whom spend their time educating people about Tudor history.
Everyone who buys a ticket to "Anne Boleyn, the Woman who changed England" will receive
BONUS 1 – A unique souvenir paperback book "Anne Boleyn, the Woman who changed England" delivered to your door. This will include transcripts of all the expert talks along with bios of our speakers.
BONUS 2 – An audio version of "The Anne Boleyn Collection" by me, Claire Ridgway
BONUS 3 – An audio version of "The Fall of Anne Boleyn: A Countdown" by me, Claire Ridgway
BONUS 4 – An audio version of "The Anne Boleyn Collection II" by me, Claire Ridgway, as soon as it's ready (due to be released February)
AND if you buy a ticket before 31 December 2021, you'll get to participate in this early bird bonus:
BONUS: A special live masterclass with me, Claire Ridgway on "Who killed Anne Boleyn?" in January 2022. I'll be doing it at two different times to suit different time zones.
You can find all the details, including FAQs, and buy your ticket or a gift certificate for a loved one at https://claireridgway.com/events/anne-boleyn-the-woman-who-changed-england/
If you have any queries at all about this online conference, please do email at claire@theanneboleynfiles.com and I'll be happy to help.