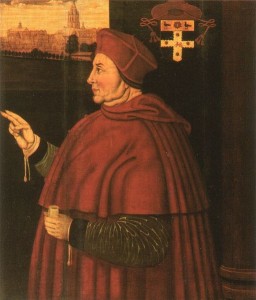 On this day in history, 29th November 1530, Cardinal Thomas Wolsey died at Leicester Abbey (the Abbey of St Mary de Pratis) in his late 50s. He was on his way from Yorkshire to London with his chaplain, Edmund Bonner (the future Bishop of London), to answer charges of high treason when he was taken ill and died. He was laid to rest within the walls of the abbey and was not given the grand marble black sarcophagus that he had had designed for himself, instead, that sarcophagus houses the body of Horatio Viscount Nelson in the vault under the dome of St Paul's Cathedral.
It is impossible to write an article on Cardinal Wolsey's life – he deserves a book! – but here is a brief rundown:-
Wolsey's Rise
Thomas Wolsey was born around 1471 in Ipswich, Suffolk, and was the son of Robert Wolsey, a man once thought to have been a butcher but who is now thought to have been a cloth merchant who was killed at the Battle of Bosworth. Wolsey was educated at Ipswich School, Magdalen College School and then Magdalen College (Oxford University), where he studied theology. On 10th March 1498 Wolsey was ordained and it was not long before he became Dean of Divinity at Magdalen College. In 1502, he became the chaplain of Henry Deane, the Archbishop of Canterbury, and after Deane's death in 1503 he joined the household of Sir Richard Nanfan. Nanfan died in 1507, leaving Wolsey as the executor of his estate, and it was then that Wolsey began working for the King, Henry VII, as his royal chaplain and the secretary of Richard Foxe, a man who was Lord Privy Seal and the Bishop of Exeter, Bath and Wells, Durham and Winchester.
Henry VIII came to the throne in 1509 and the new king recognised Wolsey's intelligence and his skills and made him his almoner, a position which gave him a place on the King's Privy Council. In 1511, Wolsey was made Canon of Windsor then Bishop of Lincoln and, in 1515, Wolsey was appointed Lord Chancellor after William Warham, the Archbishop of Canterbury, resigned. Around the same time, Pope Leo X made him a cardinal.
Wolsey showed Henry VIII just how indispensable he was during the 1512-14 war with France, revealing what a talent he had for foreign diplomacy. The second campaign against the French was successful due to Wolsey's planning and the subsequent peace negotiations, which saw Mary Tudor marry the French King, Louis XII, were all part of Wolsey's handiwork. Pope Leo X recognised Wolsey's skills in this area and made him Papal Legate in 1518, which saw Wolsey negotiating the Treaty of London between twenty nations. In 1520, Wolsey organised a lavish meeting between Henry VIII and Francis I, the French King, at The Field of the Cloth of Gold and very soon he had got England to the enviable position of having the major powers of France and Spain fighting to be England's ally. He was rewarded by the Pope for his skills and hard work in Europe in1523 when he was made Bishop of Durham.
The King's Great Matter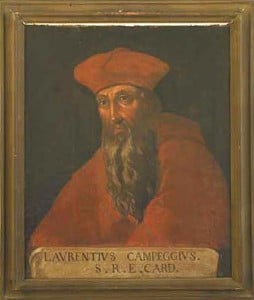 Between 1527 and his death in 1530, Cardinal Wolsey was trying his utmost to get his master, King Henry VIII, an annulment of his marriage to Catherine of Aragon. Catherine of Aragon had failed to provide Henry with a living son and heir and Henry stopped sleeping with his wife in 1524 when it appeared that she was no longer fertile. Henry had managed to convince himself that his marriage to Catherine was sinful and cursed because she was his brother's widow:-
"And if a man shall take his brother's wife, it [is] an unclean thing: he hath uncovered his brother's nakedness; they shall be childless." Leviticus 20 verse 21, King James Bible
Henry wanted his cursed marriage annulled so that he could marry again and hopefully have a son. By 1527, Henry even had another woman in mind, Anne Boleyn.
Annulment proceedings began in 1527 and Wolsey fought the case firstly by pointing out to the Pope that the original dispensation for Henry and Catherine's marriage was invalid because the marriage was against Biblical law, secondly by claiming that the dispensation contained errors, and thirdly by arguing that the case should be tried in England by him as Papal Legate. Pope Clement VII ruled that the case could be heard in England but in the presence of two legates, Wolsey and Cardinal Campeggio. Although Wolsey was confident that there would be no problem with this, Campeggio's visit to London kept being delayed, then it was found that Campeggio's "powers were not complete"1 which necessitated "further wearisome and unsatisfactory negotiation with the papal Curia."2 Campeggio, who had been ordered to stall proceeding as much as possible, managed to stall things until the 31st May 1529 when the trial began at Blackfriars. Catherine was definitely the victor in the trial. Not only did she make the King rather uncomfortable by kneeling at his feet and making the "speech of her life"3, the Pope also approved her appeal that the case should only be heard in Rome. In July 1529, Campeggio adjourned the court and the court was never to sit again. Wolsey had failed in his mission.
Wolsey's Downfall
Henry VIII had been expecting the Legatine Court to rule that his marriage to Catherine was null and void, so it was a bitter disappointment when the court was adjourned and then news reached him that the Pope had approved Catherine's appeal. However, although many people believe that it was Wolsey's failure to get the King his divorce which was solely responsible for the Cardinal's downfall, Eric Ives points out that Wolsey "lost Henry's confidence from late August onwards by miscalculating the king's mood and by mishandling the Treaty of Cambrai, in which Francis I totally deceived him and caused him, in turn, to mislead his master."4 Wolsey's mistakes, combined with his failure to get Henry his much-needed annulment, enabled the Boleyn faction to "bring him down"5. Wolsey began to fall in favour as the likes of Norfolk, Suffolk and Rochford rose in favour and Wolsey was painted as a man who had not only sought to delay Henry's marriage to Anne Boleyn, but also as a man who was "in the pocket of Francis I's mother and mentor, Louise of Savoy"6 and so was not working for England's best interests.
Wolsey was able to see the King sometime around the 19th September 1529 at the King's hunting lodge at Grafton, near Milton Keynes, where the two of them had lengthy meetings together. We do not know exactly what was said during these meetings but Eric Ives points out that Wolsey managed to retain his office and chair council meetings as late as the 6th October. However, on the 9th October, Wolsey found himself being charged with "praemunire" which is described by Webster's Dictionary as being "the offense of introducing foreign authority into England". Around a week later, Wolsey was forced to hand over his seal of office and on the 22nd October 1529 he pleaded guilty to the charge of praemunire and surrendered all of his property to the King. Henry, however, secretly kept in touch with his former chancellor and Wolsey was fully pardoned and restored to Henry's favour on the 12th February 1530.
Although Wolsey managed to gain much support from the King's council, he was once again losing favour by autumn 1530, something which Ives puts down to Anne Boleyn:-
"The one person who kept her nerve was Anne. It was thanks to her that Wolsey's 'hinderers and enemies' retained the initiative and were able always to count on having 'time with the king before his friends'."7
Although I do not believe that Anne was seeking revenge on the Cardinal for breaking up her relationship with Henry Percy a few years earlier, it is clear that Anne had lost faith in Wolsey and wanted him removed from power.
Wolsey, meanwhile, was digging his own grave by acting against Anne in working towards "a rapprochement with Katherine, Charles V and Rome"8 which saw a papal edict being sent to Henry in October 1530 ordering him to leave Anne. Anne, of course, was furious and Ives writes of how "she brought out again her wasted youth and the reputation she had risked for Henry"9 and vowed to leave him. The only way that the King could calm Anne and keep her was by agreeing that he would move against Wolsey.
On the 1st November a groom of the King's chamber was sent to York, where Wolsey was staying, with a warrant for the Cardinal's arrest. Henry VIII believed that Wolsey had "intrigued against them, both in and out of his kingdom"10 and entered into "presumptuous sinister practices made to the court of Rome for reducing him to his former estates and dignity"11, treason in other words. On the 4th November, Wolsey was arrested while he was eating dinner and was made to set out for London to be tried for treason. J J Scarisbrick writes of how Wolsey's natural death at Leicester Abbey on the 29th November 1530 "cheated his master of the final reckoning"12, Wolsey had avoided the axeman and died in in a place of God, his true master. His successor, Thomas More, was not so lucky.
Trivia
The beautiful Renaissance style Hampton Court Palace was built for Cardinal Wolsey so it is he, not Henry VIII, who we have to thank for its beauty. Henry 'inherited' the Palace when Wolsey fell from favour.
In "The Tudors" Wolsey commits suicide by slitting his throat!
Notes and Sources
The Life and Death of Anne Boleyn, Eric Ives, p96
Ibid.
Six Wives: The Queens of Henry VIII, David Starkey
Ives, p120
Ibid.
Ives, p122
Ives, p130
Ives, p131
Ibid.
Letters and Papers, Foreign and Domestic, Henry VIII, Volume 4. 6720
State Papers of Henry VIII Volume 7. 212
p316 of my old copy of J J Scarisbrick's "Henry VIII