Hampton Court Palace is a real must-see when you are visiting the London area, along with the Tower of London, Hever Castle and attractions like the British Library and National Portrait Gallery.
Hampton Court Palace started off as a manor that was acquired as a grange by the Knights Hospitallers of St John Jerusalem in the 13th century. This religious order eventually rented out the property and land, and Cardinal Thomas Wolsey obtained it on a 99 year lease in 1514 and began transforming it from a private house into a huge palace complex fit for a king. Wolsey built the palace to impress the whole of Europe and it was a wonderful fusion of Catholic iconography and Renaissance art and architecture, with an incredible "long gallery" which made use of terracotta.
The palace was so luxurious and "fit for a king" that when Cardinal Wolsey fell from grace in 1528, he lost both his properties at York Place and Hampton Court to Henry VIII.
Henry VIII and his soon-to-be wife, Anne Boleyn, had many plans for Hampton Court Palace and it is estimated that Henry spent £18 million, in today's money, extending and improving the palace. What did Henry spend this money on?:-
Tennis courts
Bowling alleys
Pleasure gardens
A 1,100 acre + hunting park
Huge kitchens which covered over 36,000 square feet
A beautiful chapel
The Great Hall – a dining room just perfect for a king to entertain in.
The Great House of Easement – a lavatory system which could seat 28 people at a Ltime!
Lead pipes to carry water from Kingston's Coombe Hill, 3 miles away, to the palace.
Paintings – Henry VIII commissioned Renaissance artist Hans Holbein as his Royal painter.
As well as entertaining, the palace also served as luxurious accommodation for the King and his wife (wives!) and was also the setting of key events – the birth of Edward VI (son of Jane Seymour and Henry VIII), the death of Jane Seymour, the house arrest of Catherine Howard and the marriage of Henry VIII and Catherine Parr.

(Video montage of photos taken by Paudie Kennelly)
Hampton Court Palace Ghosts
Like many old houses with a colourful history, Hampton Court Palace is said to be the home of a collection of ghosts:-
Catherine Howard – It is the ghost of Catherine Howard, Henry VIII's fifth wife, which gives "The Haunted Gallery" its name. Apparently, when Catherine was charged with adultery in 1541 at the palace, she broke free from the guards and attempted to run into the chapel to find Henry. Unfortunately, Henry would not help his queen and Catherine was beheaded at the Tower of London for adultery and treason. It is said that she floats around the Haunted Gallery with a look of despair and making an awful shrieking sound!
Jane Seymour – Jane is said to haunt Clock Court and is seen carrying a lighted taper.
Sibell Penn, "the lady in grey" – Sibell was little Prince Edward's nurse (Edward VI) who died in 1562 and was buried at Hampton Church. Her remains were disturbedin 1829 when the church was demolished and she now returns to the rooms she once knew so well at Hampton Court Palace.
"The Wolsey Closet Dog" – Yes, a phantom dog can be found at Hampton Court Palace in the Wolsey Closet alcove.
See "A Visit to Hampton Court Palace" page for a ghostly video!
Things to See and Do on Your Visit
The Hampton Court Palace website is a great resource for planning your visit and has even got a list of top things to see and do – here they are:-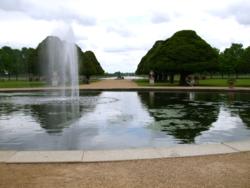 Planning Your Visit
Check out the palace website –http://www.hrp.org.uk/HamptonCourtPalace/ for information on how to get to the palace. The palace is open:-
Summer:-
Monday to Sunday – 10am-6pm
Winter:-
Monday to Sunday – 10am-4.30pm.
Tickets can be purchased online from the palace website and here are the online prices valid until February 28th 2010:-
Adults – £13.00
Children under 16 – £6.50 (free for under 5s)
Concessions (students and over 60s with ID) – £10.50
Family (2 adults and up to 3 children) – £35.00
For those of you desperate to have a Tudor themed wedding or party, why not hire out Hampton Court Palace?! See the website for details.
A Visit to Hampton Court Palace
Click here to watch a video of a visit to Hampton Court Palace.