18 June 1529 – Queen Catherine of Aragon at the Legatine Court
Posted By Claire on June 18, 2018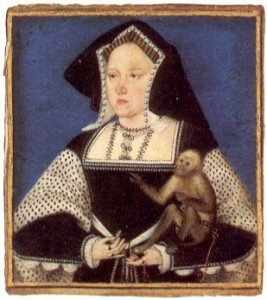 In autumn 1528, Cardinal Lorenzo Campeggio, papal legate, was sent to England by Pope Clement VII to hear the case for the annulment of Henry VIII's marriage to his first wife, Catherine of Aragon, at a special legatine court with Cardinal Thomas Wolsey, who'd been made the Pope's viceregent.
Campeggio managed to stall things for a few months, but on 31st May 1529 proceedings finally began in a special legatine court at Blackfriars. On 16th June 1529, at Baynard's Castle, Catherine of Aragon met with William Warham, Archbishop of Canterbury; Cuthbert Tunstall, Bishop of Durham; Nicholas West, Bishop of Ely; John Clerk, Bishop of Bath and Wells; John Fisher, Bishop of Rochester; Henry Standish, Bishop of St Asaph; Jorge de Athequa, Bishop of Llandaff; her almoner, Robert Shorton, and John Talcarne. In their presence, she wrote a formal appeal to the Pope against the authority of the legatine court, requesting that the case be heard in Rome.
Two days later, Catherine and her husband, Henry VIII, were summoned to appear before the court. The king sent proxies, Richard Sampson, dean of the Chapel Royal, and Dr John Bell, but Catherine chose to appear at the court in person, accompanied by her ladies-in-waiting and the bishops who were to act as her counsel for the proceedings. Henry Ansanger Kelly explains that Catherine "read a protest, the essence of which was that her appearance there and anything that she should say were not to be taken as an indication of approval of the legates as competent judges in the case, nor to derogate from any allegations, protestations, provocations, appeals, complaints, supplications, recusations, and reclamations made to the pope". She made the point that the judges were far from impartial, being closely associated to the king, and stated that the court proceedings should not be taking place while the case was still pending at Rome. She instructed that her protest be recorded and the judges stated that her protestation would be answered in proceedings on 21st June. Catherine then left the court, she'd be back on 21st June when she would give an impassioned speech on her knees, in front of her husband. You can click here to read more about that.
Nicholas Pocock has an account of the proceedings of the legatine court on 18th June 1529 and a transcript of Catherine's appeal to Rome in his book Records of the Reformation which you can read, if you can read Latin, at https://archive.org/stream/recordsreformat05pocogoog#page/n305/mode/2up, p. 216 to 222.
Also on this day in history, 18th June 1546, Anne Askew, Protestant martyr and poet, was arraigned for heresy at London's Guildhall along with Nicholas Shaxton, Nicholas White and John Hadlam (Adlams or Adams). They were all found guilty and condemned to death. Click here to read more about her.
Notes and Sources
Hall, Edward (1809 edition) Hall's chronicle; : containing the history of England, during the reign of Henry the Fourth, and the succeeding monarchs, to the end of the reign of Henry the Eighth, in which are particularly described the manners and customs of those periods, J. Johnson, p. 757.
Letters and Papers, Foreign and Domestic, Henry VIII, Volume 4, 1524-1530, 5694.
Pocock, Nicholas (1870) Records of the reformation; the divorce 1527-1533. Mostly now for the first time printed from mss. in the British Museum, the Public Record Office, the Venetian Archives and other libraries, Oxford Clarendon Press, p. 216 to 222.
Davies, C., & Edwards, J. (2004-09-23). Katherine [Catalina, Catherine, Katherine of Aragon] (1485–1536), queen of England, first consort of Henry VIII. Oxford Dictionary of National Biography.
Kelly, Henry Ansgar (2004) The Matrimonial Trials of Henry VIII, Wipf and Stock Publishers, p. 79.