Thomas Cranmer Book Tour – Claire interviews Beth von Staats
Posted By Claire on July 10, 2015
I'm honoured to play host to Beth von Staats, author of Thomas Cranmer: In a Nutshell, today on day five of her book tour.
Fancy winning a paperback copy of Beth's book? Simply leave a comment below saying which of Beth's answers you liked best and why. You need to comment by midnight (UK time) 15th July. One comment will be picked at random and the winner contacted for their contact details shortly after the closing date. The giveaway is open internationally.
Welcome to The Anne Boleyn Files, Beth, and thank you for joining us!
How did Thomas Cranmer come into your life?
To be honest, Claire, Thomas Cranmer came into my life quite accidentally. I became very interested in him while researching Thomas Cromwell and Thomas More for a fictional short story I was writing. I began reading Cranmer's own writing in letters he composed and the Book of Common Prayer, and I came to realize that this was a man who was not only a religious scholar, but also a great literary genius. I also became very intrigued with his life story, as I could find no other Tudor Era historical figure who was placed in so many moral and ethical conflicts. Thomas Cranmer continually needed to make decisions and take actions that left him choosing between his personal desires, religious beliefs, and moral values and those of the reigning monarchs her served.
What's your favourite Thomas Cranmer quotation?
That is a much more difficult question than it may appear on the surface. Thomas Cranmer's literary prose combined with his gentle wisdom left the world a treasure trove of quotations, Collects and prayerful reflections, many so embedded into our English vernacular that we do not even realize Cranmer originally authored them. I will share my two favorites of his original composition.
In this quote Thomas Cranmer speaks to the moral and ethical dilemmas we all face in life. It is a simple truth we can all relate to: "What the heart loves, the will chooses, and the mind justifies."
This second quotation is actually the Collect for the second Sunday after Advent in the Book of Common Prayer. It illustrates a the combination of giftedness Thomas Cranmer possessed in religious devotion, simplification of complex scriptural interpretation, and literary genius in composition of narration meant to be read aloud, while also demonstrating his commitment that scripture be made available to all people, not just the clergy.
Blessed Lord, which hast caused all holy Scriptures to be written for our learning; grant us that we may in such wise hear them, read, mark, learn, and inwardly digest them; that by patience and comfort of thy holy word, we may embrace, and ever hold fast the blessed hope of everlasting life, which thou hast given us in our savior Jesus Christ.
Do you think that Cranmer's execution was down to Mary wanting revenge for him ending her parents' marriage?
I believe Queen Mary Tudor's reasons for executing Thomas Cranmer were numerous, but her choice to do so by burning for heresy was embedded in her steadfast belief and Roman Catholic mindset that his behavior throughout his archbishopric was genuinely heretical. He, along with several other Protestant religious leaders within the realm, needed to be held up as examples of "heretics" to solidify the Marian counter-reformation, so her choice to transfer him along with Hugh Latimer and Nicholas Ridley to Oxford to face highly public tribunals was as much to show her people the error of the evangelical and Protestant cause as it was pure revenge. In fairness to Queen Mary Tudor, beyond her deprived upbringing and degradation after the annulment of her mother's marriage to King Henry VIII, as well as reformation activities that Thomas Cranmer initiated during King Edward VI's reign or was complicit to in King Henry VIII's reign, Cranmer also engaged in active treason against her, even after she successfully secured the throne.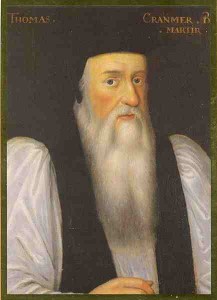 In just one small example of Thomas Cranmer's civil disobedience after Queen Mary Tudor was crowned, Cranmer sent a letter to a friend condemning a Eucharist mass celebrated at his own Canterbury Cathedral, along with a draft of a proclamation condemning the celebration of mass as "devil devising", further denying all rumours that he would ever celebrate any Eucharist mass before the Queen of England. Somehow this draft proclamation was promulgated. Thomas Cranmer was frustrated to say the least. His intention was to edit the draft into a public manifesto that "a la Martin Luther" would be ordered to be affixed to ever church door in London with his official seal. Obviously, the ruling regime considered his action sedation, Cranmer proudly admitting to it himself when finally questioned and subsequently arrested after an appearance at Star Chamber.
What would you say to those who call Thomas Cranmer a coward for not sticking up for Anne Boleyn and also for his recantations?
The first part of your question speaks to Thomas Cranmer's actions and reactions to the fall of his beloved friends Queen Anne Boleyn and George Boleyn, Viscount Rochford, along with Mark Smeaton, Francis Weston, Henry Norris and William Brereton. In truth, Thomas Cranmer is the only known courtier close to King Henry VIII to speak on behalf of Anne Boleyn in any way, shape or form. This he accomplished through a heavily veiled correspondence directly to the king. Cranmer relayed in part the following:
And I am in such a perplexity, that my mind is clean amazed: for I never had better opinion in woman than I had in her; which maketh me to think that she should not be culpable. And again, I think your highness would not have gone so far, except she had surely been culpable. Now I think that your Grace best knoweth, that, next unto your Grace, I was most bound unto her of all creatures living. Wherefore, I most humbly beseech your Grace, to suffer me in that, which both God's law, nature, and also her kindness bindeth me unto; that is, that I may with your Grace's favour, wish and pray for her, that she may declare herself inculpable and innocent. And if she be found culpable, considering your Grace's goodness towards her, and from what condition your Grace of your only mere goodness took her, and set the crown upon her head; I repute him not your Grace's faithful servant and subject, nor true unto the realm, that would not desire the offence without mercy to be punished, to the example of all other.
Although Cranmer couches his word choice, the message is clear. Cranmer states his opinion, and then defers to the king's ultimate supremacy: 'I believe this, but of course you know better.' Though Cranmer loved Anne Boleyn, he was bound by the royal supremacy to defer to his king in what must have seemed an impossible situation. Within a 16th century mindset, this letter was a very brave action, not cowardice.
Your second question relates to Thomas Cranmer's recantations of faith and the belief by many people that his recantations resulted from cowardice. My steadfast belief is that by the time Thomas Cranmer signed forced recantations and then ultimately copied recantations with his own hand, he was suffering from Stockholm Syndrome. I detail my beliefs and accompanying rationale in the November 2014 issue of Tudor Life magazine.
Tell us a bit about your site QueenAnneBoleyn.com
Queen Anne Boleyn Historical Writers is a non-income generating website devoted to writers of history, whether fiction or non-fiction. A membership website, we provide a forum for novice writers to perfect their craft and online publish professional quality work. We also host online interviews with fictions writers and historians, publish quest articles by a variety of professional writers, and offer book reviews for browsers of newly released historical fiction and biographies that interest us. QAB also is home to several outstanding online reenactors who heavily research history and then reenact a variety of historic moments from 15th and 16th century England and Wales. We have two talented bi-lingual members who offer blog posts and articles written in Welsh and Spanish, as well.
Although QAB is of course named in honor of Queen Anne Boleyn, I write comparatively little about her myself. Fortunately, the remaining members have her covered 'in spades'.

Who are you? Tell us a bit about Beth von Staats.
I am a human service administrator by profession, working 'by day' as the Director of Residential Services at Cape Abilities, Inc., located in Hyannis, MA. (www.capeabilities.org) I am also the proud mother of three children, Brian (29), Katie (27) and Joshua (16). I am also 4 year old Gianna's mamgu.
What are you working on at the moment?
I am working on two major projects. Currently I am drafting out a short biography of Saint Thomas More. I am also completing research on a variety of religious martyrs that fell victim to King Henry VIII that I want to craft into a substantial work with chapter length biographies highlighting each martyr (or group of martyrs, such as the Carthusian monks) in turn. My friends jokingly call this work in progress 'Beth's Book of Martyrs'.
I know that you write fiction as well so do you have any plans to publish an historical novel?
No, I actually write short stories of one to four scenes at the most. My writing style is highly eclectic with a very deep introspective first person point of view. This is near impossible to carry across a novel length work when the character narrating is a famous historical figure. My fiction is more a narrative intellectual exercise of 'getting into the head' of a historical figure at a key turning point in history. In all honesty, although many history lovers enjoy the writing, it is likely not marketable to a wider audience.
What other historical periods interest you?
As a Massachusetts native, I love colonial and American Revolutionary history. I have a particular interest with how early Massachusetts settlers, such as the Pilgrims, interfaced and negotiated with their native neighbors, the Wampanoags. Citizens and scholars of the Wampanoag Nation of Mashpee are currently researching their once lost language through colonial documents and are making great headway. I find their research and progress intriguing.
There's an interesting YouTube video on the Wampanoag at https://www.youtube.com/watch?v=_5H1B1uBKtc&feature=youtu.be
When you're not writing about the Tudors, how do you like to spend your spare time? What's your guilty pleasure?
What little spare time I have is spent enjoying my family. I suppose my guilty pleasure is my love of the game of American football and my steadfast super-fandom of my favorite sports team, the New England Patriots. Given they are likely the most hated team in the USA, that will remain our little secret. GO PATS!
Here's the book tour schedule so you can catch Beth at her other stops and enter the other giveaways: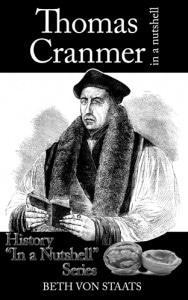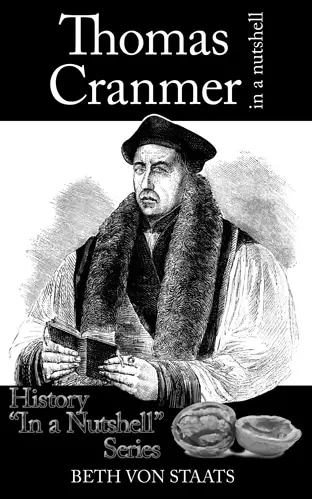 Thomas Cranmer: In a Nutshell is available from Amazon.com, Amazon UK and Amazon's other stores, as well as through your usual book store.
In Thomas Cranmer in a Nutshell, Beth von Staats discusses the fascinating life of Thomas Cranmer, from his early education, through his appointment to Archbishop of Canterbury, his growth in confidence as a reformer, the writing of two versions of the English Book of Common Prayer and eventually to his imprisonment, recantations and execution.
Beth von Staats, creator of the popular "QueenAnneBoleyn" website brings together what is known about Thomas Cranmer and clearly explains his role in English history.