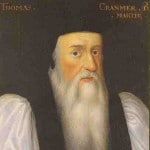 Do you want to know four fun facts about Thomas Cranmer and be in with a chance of winning Thomas Cranmer: In a Nutshell by Beth von Staats?
Yes, of course you do!
Then head over to Kyra Kramer's blog right now for Beth's guest article – click here. You need to be quick, the give away closes tomorrow night!
I'm really enjoying Beth's book tour, Cranmer is such a fascinating man.