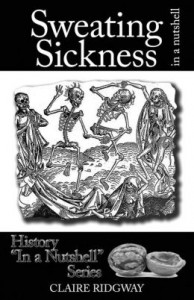 Just a quick post to alert you to the publication of my new book, which is a short book on that Tudor mystery disease, sweating sickness.
Here are all the details:
MadeGlobal's History in a Nutshell Series aims to give readers a good grounding in a historical topic in a concise, easily digestible and accessible way.
Claire Ridgway, author and creator of The Anne Boleyn Files, is known for her easy-going style, but with an emphasis on good history and sound research. In Sweating Sickness in a Nutshell, Claire Ridgway examines what the historical sources say about the five epidemics of the mystery disease which hit England between 1485 and 1551, and considers the symptoms, who it affected, the treatments, theories regarding its cause and why it only affected English people.
Paperback: 50 pages
Also available on Kindle (ASIN B00N4VWI70)
Publisher: MadeGlobal Publishing/CreateSpace Independent Publishing Platform (August 30, 2014)
Language: English
ISBN-10: 150099622X
ISBN-13: 978-1500996222
Available on Amazon.com, Amazon UK and Barnes & Noble.