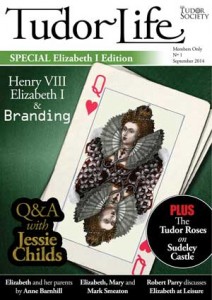 I've been busy over the past month or so organising a brand-new venture called The Tudor Society and I am excited that it has gone live to the public today – phew!
I love running The Anne Boleyn Files, it's become a wonderful community of history lovers, but I wanted to branch out and offer you the chance to learn about the whole Tudor period, and the Wars of the Roses, from a wide range of historians, authors, experts and authorities, hence The Tudor Society, an exclusive membership club for all those who love Tudor history and who want to keep learning more and more.
Through writing my Tudor history books and running The Anne Boleyn Files, I've made many amazing contacts, and some great friends, in the Tudor history community. I'm pleased to say that lots of historians and authors want to be involved in this new society, and they are willing to give their time and knowledge to members of the Tudor Society.

The Tudor Society:
Gives you the chance to learn from Tudor history experts in the comfort of your own home, wherever you are in the world and without having to worry about time zone differences
Puts experts in your reach so you can ask your own questions
Gives you a wide range of Tudor authorities through the monthly digital magazine, forum, chatroom and monthly expert talks
Is targeted specifically at the Tudor period
Gives you many ways to learn and interact – listen, read, chat and share
Offers monthly live online chats with experts
Helps you find the primary sources and books you need
Enables you to become quickly absorbed in the 15th and 16th centuries
Is fun – you can enjoy quizzes, giveaways and chats
Helps you get to know other Tudor history lovers
September's edition of Tudor Life magazine is now out and is a special one focusing on Elizabeth I. It's 72 pages long and features articles from regular contributors such as historian Gareth Russell, art historian Melanie Taylor, the Tudor Roses and blogger Charlie Fenton (as well as me!), plus guest articles from novelists Anne Clinard Barnhill and Robert Parry, and historian Jessie Childs. You can read a sample of it and find out more about The Tudor Society at www.tudorsociety.com/.
Upcoming speakers include Conor Byrne, Amy Licence, Karen Bowman, Sandra Vasoli and Elizabeth Norton.
The Tudor Society already has lots of members (I did a pre-launch with my email list of subscribers) and the feedback has been really positive. It's all really exciting. There are already lots of talks, videos, and resources on the Society website, along with a fun Elizabeth I quiz. Membership is paid annually, twice yearly or monthly. Find out more at www.tudorsociety.com/. I do hope you will consider joining.
By the way, this new project will not affect The Anne Boleyn Files.