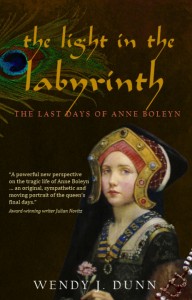 Congratulations to historical novelist Wendy J Dunn, who many of you will know from her first book Dear Heart, How Like You This?, on the release of The Light in the Labyrinth: The Last Days of Anne Boleyn today.
Here is the blurb:
IN THE WINTER OF 1535, fourteen-year-old Kate Carey wants to escape her family home. She thinks her life will be so much better with Anne Boleyn, Henry VIII's second wife and the aunt she idolises. Little does Kate know that by going to attend Anne Boleyn she will discover love and a secret that will shake the very foundations of her identity. An attendant to Anne Boleyn, Kate is also swept up in events that see her witness her aunt's darkest days. By the time winter ends, Kate will be changed forever.
Paperback: 338 pages
Publisher: Metropolis Ink (September 7, 2014)
Language: English
ISBN-10: 098072192X
ISBN-13: 978-0980721928
Available from Amazon.com, Amazon.co.uk and other bookstores.
It sounds like a must-read for all those who love historical fiction.
To celebrate the launch, Wendy is doing a giveaway of a signed copy of her book over at Goodreads – click here for more information.