Guest Article and Giveaway on Jasper Tudor by Debra Bayani
Posted By Claire on September 3, 2014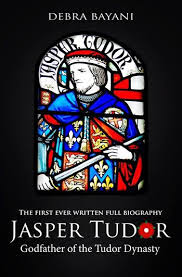 I am honoured to be Day 3 of author Debra Bayani's book tour for her new book Jasper Tudor, Godfather of the Tudor Dynasty. Here is an excerpt from her book…
Earl Jasper had recruited troops from Wales. With him were his father Owen; Sir Thomas Perot of Haverfordwest; Owen and Thomas, the two sons of Gruffydd ap Nicholas, and various other esquires from Gower and Carmarthen; Sir John and Sir William Scudamore and Sir John's son Henry, with some 30 retainers; Lewis Powys of Powyland; Hopkyn Rheinallt Gwenedd of Harlech; Lewis ap Rhys of Carmarthen; the Herefordshire lawyer Thomas Fitzharry; and the Englishman John Throckmorton of Shrewsbury. Jasper's march did not go entirely as planned, he had to wait for James Butler, the Earl of Wiltshire and Ormond, to arrive from Ireland with his foreign contingents at Pembroke or Milford Haven. When they finally landed, the combined army of Welsh, Irish, Bretons and Frenchmen, marched from Pembroke either through Brecon towards Wigmore or to the Valley of Towy via Radnorshire. Having reached Presteigne, they followed the Valley of the Lugg in the direction of Leominster where the two forces met. Whichever route they took, unlike their enemy who had advanced to be on their own territory, Jasper, Wiltshire and their men had marched in the winter cold for more than 100 miles and through country totally strange to many of them. Without wasting any time, Edward had gathered an army of around 2,000 men, among them: the Dwnns, William Herbert, Roger Vaughan, Richard Croft, Walter Mytton, John Lingen and Reginald, Lord Grey of Wilton (Jasper's brother-in-law, married to his sister Tacina) and men from Herefordshire.
On 2 February, at a place called Mortimer's Cross, in the county of Herefordshire on the border of Wales and England and just 4 miles south from Edward's Wigmore Castle, the Lancastrian army clashed with the supporters of the furious 18-year-old son of the slain Duke of York. The descriptions of the battle are contradictory but what is certain is is that on that morning the weather was very cold for, just before fighting began, a parthelion (sometimes referred to as 'three suns') occurred. Another certainty is that the Earl of Wilshire maintained his reputation for being a coward, as he had done previously at the first Battle of St Albans, by fleeing the field before the battle had actually started. Many of the remaining Lancastrians were driven into the river Lugg and were slaughtered or drowned. Jasper's army did not stand a chance against Edward Earl of March, who was determined to avenge his father's death. Within a short time the Lancastrians were completely overwhelmed by the Yorkists and Jasper and Sir Thomas Perrot, who shared command over the defeated army, were forced to flee. While both escaped successfully from the field, it is likely that Sir Thomas was wounded during the battle for, although he got away to Bristol afterwards, he died on 10 April that year. Unfortunately, Jasper's father Owen was not able to do the same as his son. He may have refused to abandon the field even though defeated, or was simply unable to make good his escape. Captured by the Yorkists, he was led to the block in Hereford's market place, either that same day or a few days later, by Roger Vaughan of Tretower, together with at least two of 'his kinsmen and comrades', Henry Scudamore (son of Sir John Scudamore) and John Throckmorton, and many other Welshmen. Owen, as the first person on whom the Earl of March could avenge the deaths of his brother Rutland and his father, was the first to die. It is said that Owen presumed he would be spared because of his relationship with the former royal family – being the widower of Queen Katherine of Valois made him King Henry VI's stepfather. According to Gregory's Chronicle, which very likely derives from an eyewitness account, the elderly Owen (he was in his early sixties) apparently remained unconvinced of his approaching death until his red velvet collar was ripped off his doublet by the executioner and 'he fully meekly took his end'. Just before Owen was beheaded his final words were: 'That hede shalle ly on the stocke that was wonte to ly on Quene Kateryns lappe'..
It is said that after the execution Owen's head was taken by a woman who combed his hair and washed his face and surrounded it by a hundred candles: 'hys hedde sette a-pone the hyghesyeste gryce of the market crosse, and a madde woman kembyd hys here and wysche a way the blode of hys face'. Jasper's father was buried in Hereford's Greyfriars church.
This extract from a contemporary verse gives an idea of the hopes the Welsh people had in the Tudors, who they believed had the Welsh interest at heart. Those Welsh hopes and faith now focused on Jasper and his nephew Henry Tudor.
Hope remains for our people
and life has become hopeful.
Having heard that Owen Tudor was killed
by arms, it caused death,
I look to Jasper and Harry,
his son and grandson.
Between me and Monmouth I don't desire,
if this is my task, to say more [than this]:
may God from now on keep thes
Not only was Owen forced to leave behind his son Jasper and grandson Henry, he had also fathered another son from an unknown woman about two years earlier in 1459. This now fatherless toddler, half-brother to Jasper, was named David Owen. Born in Pembroke, probably in Pembroke Castle, David was very likely taken under Jasper's wing after their father's execution. With this in mind, it is also likely that Jasper's nephew Henry Tudor and his young half-brother David spent their early years in each other's company while living at Pembroke Castle until the autumn of 1461.
Jasper had to live with the fact that he himself had managed to withdraw from the battlefield but had not been able to save his father's life. Probably encouraged by the fact that Queen Margaret, with her army of Scots, Welsh and Northern men, had successfully defeated Warwick by 17 February 1461 at the second battle of St. Albans, Jasper wrote, on 25 February, a letter from his headquarters at Tenby to his servants and kinsmen at Denbigh, Roger Puleston and John Eyton. Jasper and Roger Puleston shared a great-grandfather, Tudur ap Goronwy (c. 1300–67) (also called ap Grono), and were third cousins. Puleston had been a loyal servant to the Tudors for years; for instance, on 10 September 1456, Edmund had granted him £10 in recognition of good services. This was at the time when Edmund was controlling the rebellion in South Wales and Puleston seems to have aided him with weapons. Further, both John Eyton and Roger Puleston had helped Jasper in besieging Denbigh the year before. In this letter Jasper urged them to stay faithful and reminded them of the great dishonour March, Herbert and the Dwnn's had done them. He expressed his trust in them and exhorted them to stay loyal to the Lancastrian cause. But most of all Jasper swore to avenge his father's death:
To the right-trusty and well-beloved Roger à Puleston, and to John Eyton, and to either of them.
Right-trusty and well-beloved Cousins and frinds, we grete you well. And suppose that yee have well in yor remembrance the great dishonor and rebuke that we and yee now late have by traytors Marche, Harbert, and Dunns, with their affinityes, as well in letting us of our Journey to the Kinge, as in putting my father yor Kinsman to the death, and their trayterously demeaning, we purpose with the might of our Lord, and assistance of you and other our kinsmen & frinds, within short time to avenge. Trusting verily that yee will be well-willed and put your hands unto the same, and of your disposicon, with your good advice therein we pray you to ascertayne us in all hast possible, as our especiall trust is in you. Written at our towne of Tenbye the xxvth of ffeu'r.
J. PEMBROKE
In another letter, written in a similar context to Roger Puleston on 24 July, it appears that Denbigh Castle was still under the control of the Lancastrians:
To our Right trusty and well-beloved Roger Puleston, Esq., Keeper of the Castle of Denbigh
Right trusty and well-beloved – We greete you well, letting you witt that we have received yor letters by Hugh, and understand the matter comprised therein; and as touching the keeping of the Castle of Denbigh, we pray you that you will do your faithful dilligence for the safeguard of hit, as far as in you is, taking the revenue of the lordship there for the vittaling of the same, by the hands of Griffith Vychan, receyvor there – we have written unto him that he should make p'veyaunce therefore – and that yee will understand the goodwill and dispossicon of the people, and that countrey, towards my Lord Prynce [Edward, Prince of Wales, son of King Henry VI] and us, and to send us word as soone as you may, as our trust is in you. Written at my towne of Tenbye, the xxiiij of July.
J. PEMBROKE.
From the summer of 1461 on, Jasper was about to begin a life of a constant adventurer, determined to survive and restore the Lancastrians to the throne as the most loyal supporter and champion of his half-brother King Henry VI and the house of Lancaster.
Book Details
Jasper Tudor, Godfather of the Tudor Dynasty is now available in colour and black & white editions on all the Amazon websites and Book Depository.
Click here for Amazon.com
Click here for Amazon.co.uk
Click here for Book Depository
Blurb:
Born in secrecy in 1431 as the son of the Welsh squire Owen Tudor and dowager Queen Katherine of Valois, Jasper Tudor was never supposed to live life at the political centre of England. But this all changed dramatically after the death of his mother, followed shortly by the arrest of his father, when he was no older than six. After spending most of their youth inside an abbey being raised by nuns and priests, Jasper and his older brother Edmund were suddenly called to court by their half-brother King Henry VI. Here, in 1452, they became the first ever Welshmen elevated to the English peerage. When this happened both brothers stepped into a completely new life of political involvement with its many attendant problems, problems that Edmund did not survive. After this, Jasper led a life that was completely dominated by his devotion to the Lancastrian cause and to his nephew, the only son of his death brother Edmund, Henry Tudor. In a time when most magnates defected to the other party as soon as their own faction became submerged, Jasper remained loyal to his kinsman's cause and supported him wherever it took him, whether scaling triumphant peaks or – more often – through deep valleys. His hopes and faith in what was right led him through several kingdoms and, as a brave and fearless man, he led the life of an adventurer throughout that most difficult period of English history, the Wars of the Roses. Historians often claim that Jasper's father Owen or his brother Edmund was the founder of the Tudor dynasty; certainly both men played a significant role in its origins and without them the Tudors would not have been. But Jasper's story proves he was the key figure and godfather of the Tudor dynasty.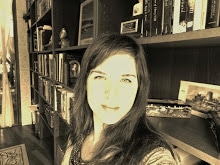 Debra Bayani is a researcher and writer, living in the Netherlands with her husband and children. She previously studied Fashion History and History of Art. She has been interested in history as far as she can remember with real passion for the Middle Ages and the Wars of the Roses, and has spend many years researching this period. Currently she is working on a visitor's guide to places connected to the Wars of the Roses. Debra's debut non-fiction book, the first biography on the subject, 'Jasper Tudor, Godfather of the Tudor Dynasty', was published in 2014.
Her website can be found at: www.thewarsoftherosescatalogue.com and she is the admin of the coordinating Facebook page The Wars of the Roses Catalogue and her author page on Facebook.
Giveaway
Debra is kindly offering one copy of her book to a lucky Anne Boleyn Files follower. All you have to do is comment below before midnight (GMT) on Sunday 7 September saying why you'd like to win a copy. One commenter will be picked at random to win the book. The giveaway is open to everyone internationally.
Here is the schedule of Debra's book tour:
Monday 1 September: The Henry Tudor Society
Tuesday 2 September: On The Tudor Trail
Wednesday 3 September: Here!
Thursday 4 September: History Refreshed by Susan Higginbotham
Friday 5 September: The Wars of the Roses Catalogue