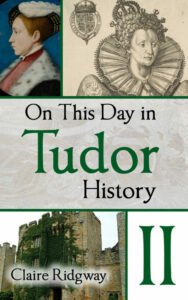 Woop! Woop! My latest book is on its way!
I've been promising you a second "On this day" book for a while now and it's finally ready! Phew!
On this Day in Tudor History II is available for pre-order on kindle right now and the paperback version will be available for pre-order very soon. What's even better is that it is released on 7th September, so you don't have long to wait to read it.
I'm so excited! It has well over 600 pages of Tudor goodness and has the same layout as book 1, i.e. it leads you through the calendar year one day at a time.
Here's the blurb:
On This Day in Tudor History II gives you a second helping of Tudor events, including births, deaths, coronations, marriages, battles, arrests, executions and rebellions.
This must-have book for Tudor buffs is perfect for:
Dipping into daily for your Tudor fix.
Teachers who want to give their class some Tudor history trivia.
Quiz night questions.
Finding out what happened on your birthday or special day.
Showing people how much you know about history.
Researching the Tudor period.
Written by best-selling author and historian Claire Ridgway, On This Day in Tudor History II contains a wealth of fascinating information about your favourite Tudor monarchs, their subjects, their reigns and the times they lived in.
Did you know: in 1536, Robert Packington was the first person in England to be killed with a handgun?
ISBN: 9788412595307
ASIN: B0B9HRC2KB
See the book on your country's Amazon page and pre-order at https://mybook.to/onthisday2