On This Day in Tudor History II Paperback and Kindle available for pre-order
Posted By Claire on August 25, 2022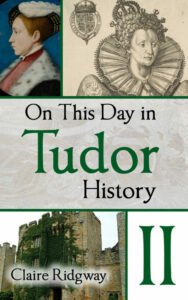 Just a quick post to let you know that both the kindle and paperback versions of my new book, On This Day in History II, are available for pre-order.
Both versions are released on 7th September, so not long to wait.
It's already been a No. 1 bestseller on Amazon.com so a big thank you to all those who have pre-ordered it.
See the book on your country's Amazon page and pre-order at https://mybook.to/onthisday2
Here's the blurb:
On This Day in Tudor History II gives you a second helping of Tudor events, including births, deaths, coronations, marriages, battles, arrests, executions and rebellions.
This must-have book for Tudor buffs is perfect for:
Dipping into daily for your Tudor fix.
Teachers who want to give their class some Tudor history trivia.
Quiz night questions.
Finding out what happened on your birthday or special day.
Showing people how much you know about history.
Researching the Tudor period.
Written by best-selling author and historian Claire Ridgway, On This Day in Tudor History II contains a wealth of fascinating information about your favourite Tudor monarchs, their subjects, their reigns and the times they lived in.
Did you know: in 1536, Robert Packington was the first person in England to be killed with a handgun?
Paperback ‏ : ‎ 680 pages
ISBN-10 ‏ : ‎ 8412595300
ISBN-13 ‏ : ‎ 978-8412595307
ASIN: B0B9HRC2KB