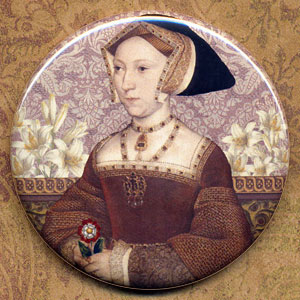 Today, the 30th May, is Henry VIII's wedding anniversary – well, ONE of his wedding anniversaries! On this day in 1536, just 11 days after the execution of his second wife, Anne Boleyn, Henry VIII married Jane Seymour.
Now, Anne Boleyn was a woman of mystery, but what do we know about Jane Seymour? Here is some information on the woman who became Henry VIII's third wife, the woman he called his "true" queen and love, and the only queen who provided Henry VIII with a son.
Jane Seymour – Beginnings
It is thought that Jane Seymour was born around 1508 or 1509, although some believe that her birth date was as early as 1504. It is reported that at her funeral 29 women walked in succession, one for each year of her birth, so that puts her birth date at 1508. Jane was one of the eight (some say nine) children of Margery Wentworth and Sir John Seymour, a courtier who had served Henry VIII in Tournai (1513) and had accompanied the King to the Field of the Cloth of Gold in 1520. The family home was Wulfhall (Wolf Hall) in Wiltshire.
Unlike Catherine of Aragon and Anne Boleyn, Jane Seymour was not highly educated, and could actually only read and write her name. Like many women of her time, she was taught household management, needlework and other such skills, it was the men of the household who were formally educated. It is thought that she became a maid-of-honour (lady in waiting) to Catherine of Aragon in 1532 and then became one of Anne Boleyn's ladies when she took over from Catherine as Queen. Jane Seymour was not an evangelical like Anne Boleyn, she was from the "old faith", a Catholic.
Jane Catches the King's Eye
King Henry VIII visited the Seymour family home in September 1535, during his Royal progress, but it is not known whether Jane caught his eye then or whether it was later at Court. By February of 1536, just after Anne's second miscarriage, gossip about the King's attraction to Jane was rife amongst foreign ambassadors. It was also around this time that Jane's brothers began to rise at court, just as the Boleyns once had.
Mystery surrounds what Jane actually thought of the King's advances and we cannot be sure of her role in the fall of Anne Boleyn. Was Jane simply an instrument of her family, Cromwell and the Catholic faction, or did she know what she was doing and encourage the King's advances, flirting openly with him? Was she a cunning woman who saw her opportunity or was she an innocent young woman who had fear for her future? There is no definitive answer to these questions but Jane probably did not have any choice in the matter anyway. She had caught the King's attention, Anne was on the way out and Jane was the chosen replacement.
Happiness and Sadness
On 20th May, the day after Anne Boleyn's execution, Henry VIII became betrothed to Jane Seymour and preparations were made for the Royal wedding, which took place ten days later at Whitehall Palace. Unlike, Catherine of Aragon and Anne Boleyn, Jane was never actually crowned Queen. Opinions are divided on this, with some believing that Henry wanted Jane to give him a son first, to prove herself to him, and others believing that her coronation was postponed due to a plague in London.
In May of 1537, it was announced that Jane Seymour was pregnant and Henry was ecstatic, ordering bonfires to be lit in celebration and showering his Queen with gifts and affection. It is said that Jane had a pregnancy craving for quail, so the King ordered the very best quail for her from Flanders and Calais.
On the 12th of October, after a long and difficult labour, Jane gave birth to Henry's longed for son, a boy named Edward, at Hampton Court Palace. Although it was rumoured that Edward was born by an emergency Caesarean (c-section), this would have taken the life of Jane and we know that she was present at his christening on 15th of October. It is likely that she died of puerperal fever which turned into sepsis. Jane Seymour died at Hampton Court on 24th October 1537 and was buried at Windsor Castle, in St George's Chapel, in a tomb that Henry had been building for himself. Henry VIII joined Jane in this tomb when he died ten years later.
Whatever our thoughts on Jane and her predecessor, Anne Boleyn, Henry VIII obviously took Jane's death hard. It is said that he wore black for three months and, although Cromwell started looking straight away for a new wife for the King, Henry did not remarry until 1540, when he married Anne of Cleves.
Although Jane Seymour was only queen for such a short time, she used her position as Henry's wife and queen to try and reconcile Henry VIII with both his daughters, Mary and Elizabeth. She invited Mary to court and pushed for Henry to recognise her claim to the throne, and then she invited Elizabeth to Edward's christening. Mary was also made Edward's godmother and was the chief mourner at Jane Seymour's state funeral.
Find Out More
An interesting article entitled "The Death of Jane Seymour: A Midwife's View" can be found at http://tudorstuff.wordpress.com/2009/03/21/the-death-of-jane-seymour-a-midwifes-view/ – it's a great article and reminds me of my eldest son's birth. After 24 hours of labour, I was given an emergency caesarean because my son was stuck and had been in an awkward position in the birth canal. I'm sure that if I had been in Tudor Engand, we both would have died.
If you're interested in finding out more about Jane Seymour, historian Elizabeth Norton's book "Jane Seymour: Henry VIII's True Love" can be pre-ordered – click here
for details (click here for UK/Europe)