The Death of Jane Seymour
Posted By Claire on October 24, 2010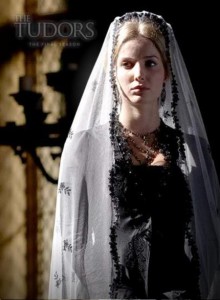 On this day in history, the 24th October 1537, Henry VIII's third wife, Jane Seymour died at Hampton Court.
Although it had seemed like she was recovering well after her long and arduous labour, but within two days of her son's christening she became feverish and delirious. After her fever reached crisis point on the 17th, it looked like Jane would begin to recover but she started to go downhill again, passing in and out of consciousness. On the 24th October, Jane's doctor's told the King that she had reached crisis point and that if she survived the night then she should make a full recovery, unfortunately, Jane did not survive the night.
On the night of the 24th October, just 12 days after giving Henry VIII, the greatest gift, that of a son and heir, the future Edward VI, Jane Seymour passed away. We do not know exactly what it was that killed her. It could have been puerperal fever (childbed fever), an infection caused by the retention of part of the placenta or some other kind of complication, but she was mourned by a grief-stricken Henry VIII who chose to be buried with her at St George's Chapel on his death in 1547.
You can read more about Jane Seymour in the following articles:-
A YouTube video clip from "The Tudors" showing Jane Seymour's death:-