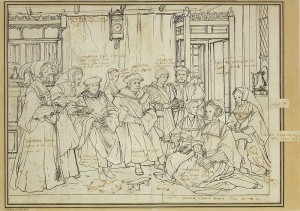 On this day in history, 25th October 1529, Sir Thomas More became Henry VIII's Lord Chancellor.
On the 17th October 1529, Cardinal Wolsey had been forced to surrender the Great Seal to the Dukes of Norfolk and Suffolk at his house in Westminster, in front of Sir William Fitzwilliam, John Tayler and Stephen Gardiner, and the seal was then delivered by Tayler to the King at Windsor on the 20th October. According to Letters and Papers, Foreign and Domestic, Henry VIII, the seal was then delivered to Sir Thomas More by the King himself on the 25th and Sir Thomas More took the oath of Chancellorship the following day:-
"On the 25th Oct. the seal was delivered by the King at East Greenwich to Sir Thos. More, in the presence of Hen. Norres and Chr. Hales, Attorney General, in the King's privy chamber; and on the next day, Tuesday, 26 Oct., More took his oath as Chancellor in the Great Hall at Westminster, in presence of the dukes of Norfolk and Suffolk, Th. marquis of Dorset, Hen. marquis of Exeter, John earl of Oxford, Hen. earl of Northumberland, Geo. earl of Shrewsbury, Ralph earl of Westmoreland, John bishop of Lincoln, Cuthbert bishop of London, John bishop of Bath and Wells, Sir Rob. Radclyf, viscount Fitzwater, Sir Tho. Boleyn, viscount Rocheforde, Sir Wm.Sandys, Lord and others."1
Eustace Chapuys, the Imperial Ambassador reported this event to his master, Charles V, saying:-
"The Chancellor's seal has remained in the hands of the duke of Norfolk till this morning, when it was transferred to Sir Thomas More. Every one is delighted at his promotion, because he is an upright and learned man, and a good servant of the Queen. He was chancellor of Lancaster, an office now conferred on the Sieur Villeury (Fitzwilliam). Richard Pace, a faithful servant of your Majesty, whom the Cardinal had kept in prison for two years, as well in the Tower of London as in a monastery (Syon House), is set at liberty. Unless his mind should again become unsettled, it is thought he will rise in higher favour at Court than ever."2
Chapuys ended his letter with a postscript concerning Cardinal Wolsey, the former chancellor:-
"P.S.—Two days after I had written the above, the Cardinal was definitively condemned by the Council, declared a rebel, and guilty of high treason for having obtained a legatine bull, whereby he had conferred many benefices in the King's patronage. He has been deprived of his dignities, his goods confiscated, and himself sentenced to prison until the King shall decide. This sentence was not given in his presence, but to his two proctors. This he will not find easy of digestion, but worse remains behind (mais encoures ne serat il quicte pour le prix)."3
Although Wolsey was stripped of his office and his home, York Place, he was able to carry on as Archbishop of York until he was again accused of treason in 1530. On the 29th November 1530, Cardinal Wolsey died on his way to London to answer charges of treason.
The Fall of Sir Thomas More
In 1530, just a year after becoming Chancellor, Sir Thomas More refused to sign a letter asking Pope Clement VII to annul Henry VIII's marriage to Catherine of Aragon. In 1531, More offered his resignation to the King but the King refused it, only to accept it a year later, in 1532, when More complained of chest pains and illness. More did not agree with Henry VIII becoming the head of the Church in England and felt that he could no longer support his King and master in this.
In 1533 the King took More's failure to attend Anne Boleyn's coronation as a snub and Thomas Cromwell was ordered to investigate More. In February 1534, Cromwell linked More to Elizabeth Barton, "The Holy Maid of Kent" and he was accused of conspiring with her against the King. More managed to escape trial by writing to the King and Cromwell to plead his case and affirm his loyalty to the King. However, More got into further trouble when he refused to take the Oath of Succession, an oath promising to uphold the Act of Succession, an act declaring the King's marriage to Catherine of Aragon null and void and establishing a new line of succession through the King and Anne Boleyn. After refusing to swear his allegiance to the Act of Succession in front of a commission in April 1534, More was arrested and imprisoned in the Tower of London. According to Richard Marius, author of "Thomas More: A Biography", Thomas More was charged with four counts of treason:-
That he had, during interrogation on 7th May, refused to accept the royal supremacy over the church of England.
That he had had treasonable correspondence with his fellow prisoner, John Fisher.
That he had, on the 3rd June, described the Act of Supremacy as a two-edged sword, "so that by accepting it one saved the body and killed the soul and that by rejecting it one saved the soul but killed the body."4
That, on the 12th June, he had had a treasonable conversation with Richard Rich in which he had spoken "falsely, traitorously and maliciously" against the statute.
As Marius points out, "the government's case came down to Riche's testimony"3 and although we don't know the ins and outs of what happened at the trial on 1st July 1535, we know that the jury found More guilty and that he was sentenced to a traitor's death – to be hanged, drawn and quartered. Henry VIII commuted this sentence to beheading and on the 6th July 1535 the former Lord Chancellor was executed. His body was buried at St Peter ad Vincula at the Tower and his head, having been saved by his daughter, Margaret Roper, was buried at St Dunstan's Church, Canterbury, in the Roper vault, although some believe that it may have been buried at Chelsea Old Church in the tomb that Sir Thomas More had erected for himself.
Sir Thomas More served as Henry VIII's Lord Chancellor between October 1529 and May 1532.
Notes and Sources
LP iv. 6025
LP iv. 6026
Ibid.
Thomas More: A Biography, Richard Marius, p505
Ibid., p506
You can read more on our Sir Thomas More Bio Page.