May 18, 1536 – The Day of Anne's Execution Dawns, or Does it?
Posted By Claire on May 18, 2009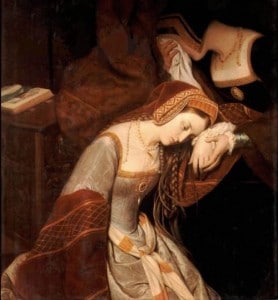 Anne Boleyn's execution was scheduled for 9am on the 18th May, one day after the executions of her brother, George Boleyn, and the other four men accused of treason.
It is said that Anne prepared for her execution by praying into the early hours with her almoner and then taking communion with Kingston just before dawn on the 18th.
Kingston confirms that she swore twice on the holy sacrament, once before taking it and once after, that she was innocent and he reported this to Cromwell:-
"This morning she sent for me, that Imight be with her at such time as she received the good Lord, to the intent I should her speak as touching her innocency alway to be clear."
Anne also arranged for the £20 that the King had given her to be given out in alms to the people and then she prepared herself and waited for 9am – we can only imagine her thoughts and how she must have prayed.
Postponement
Sir William Kingston returned not to walk Anne to the scaffold, and to her death, but to bring news that her execution was delayed until noon because the executioner had been delayed. Was this true or was Henry VIII being cruel to his wife?
Some historians believe that her execution was actually delayed because a crowd of Anne's supporters had gathered and because Henry VIII was still waiting for Archbishop Cranmer to finalise the annulment of Henry and Anne's marriage and the illegitimacy of Elizabeth. To ready yoursef to die and then be told you've got another 3 hours' wait must have been awful, but all Anne said was:-
"Master Kingston, I hear say that I shall not die afore noon, and I am very sorry there for, for I thought to be dead by this time and past my pain. I have heard say the executioner was very good and I have a little neck."
and then she laughed.
A Further Postponement
After three hours of what must have been complete hell on earth, Anne Boleyn was told that her execution had again been delayed because the Calais swordsman had still not arrived. Kingston confirmed that her execution would take place on the following morning at 9am.
We know from Kingston's reports to Thomas Cromwell that, contrary to belief, Anne Boleyn had many supporters in London and that Kingston was worried about the growing unrest and a possible breach of the Tower's security. Joanna Denny states that Kingston recommended that the execution time be kept secret and Cromwell may well have delayed her execution in the hope that her supporters would disperse.
A Marriage Over
On the 18th May, an ecclesiastical court convened by Archbishop Cranmer confirmed that the marriage of Henry VIII to Anne Boleyn was null and void because of "certain just, true and lawful impediments unknown at the making and since that time confessed by the Lady Anne". The issue of the marriage, Princess Elizabeth, was made illegitimate but Mary, daughter of Catherine of Aragon and Henry was not reinstated and Henry VIII now had no legitimate children as heirs to his throne.
The ecclesiastical court also issued a dispensation allowing  Henry VIII to marry his new love, Jane Seymour, even though his great gransmother and her grandmother were cousins. Preparations then began for the Royal wedding.
Anne sent Henry VIII another message through one of the Privy Chamber:-
"Commend me to his Majesty, and tell him that he has ever been constant in his career of advancing me. From a private gentlewoman he made me a marchioness, from a marchioness a Queen; and now that he has no higher degree of honour left, he gives my innocence the crown of martyrdom as a saint in heaven."
How could a man, who had once loved this young woman so much that he pursued her relentlessly for seven years and broke with Rome on her account, let her go to the scaffold so cruelly and needlessly? How can love and passion turn to such hate? Who can know the mind of Henry at this time?
We await the execution of Anne Boleyn, now a commoner and not a queen anymore. Until tomorrow, adieu.
**P.S. Thank you for all the entries to the competition – you still have until midnight tonight to send you article to claire@theanneboleynfiles.com, don't forget!**
**P.P.S. How are you commemorating Anne Boleyn Day tomorrow? Comment here or join the discussion thread at our Anne Boleyn Wiki – click here.**
**P.P.P.S. "The Tudors Season 3" is now available on our Resources Page for pre-order in the US – sorry UK and Europe!!**