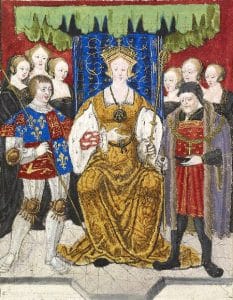 Thank you to art historian Roland Hui for letting me know about an article he has just written on his blog. The article is about an image in the Black Book of the Garter, a beautiful illumination of a queen consort presiding over a meeting of the Order of the Garter.
As Roland says, in his article, this book was created in 1534 and the queen consort in the image has "AR" on her pendant, Anna Regina. So, the 1534 medal is not the only surviving contemporary image of Anne!
Read more over at Roland's blog – click here. Thank you, Roland, and what a find!
P.S. Roland is the author of The Turbulent Crown: The Story of the Tudor Queens. Another book to add to your list!