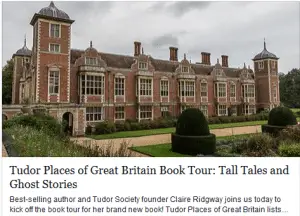 My book tour for my latest book, Tudor Places of Great Britain, kicks off today with a stop at Nerdalicious where I share with you some of the tall tales and ghosts I read about while researching my book. From Anne Boleyn's ghost(s) to huge black dogs, from the Holy Grail to phantom bears, you can read a bit about them over at Nerdalicious – click here.
Here is the schedule for my book tour and MadeGlobal Publishing is offering a copy of my book to one lucky commenter at each stop, so do join in!
A big hank you to these blogs for hosting me this week and a big thank you to you all for following me on my tour and supporting me.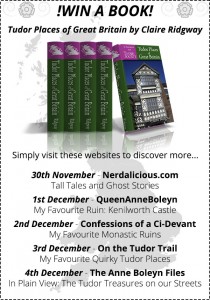 Tudor Places of Great Britain is available as a Kindle book and paperback from Amazon – click here – and from other book retailers as a paperback.