Posted By Claire on December 4, 2015
For the last day of my book tour for
Tudor Places of Great Britain
I'm home, here at The Anne Boleyn Files – hello! Thank you so much for your support this week. Releasing a book is always a nerve-racking time but it's been made so much easier by your support and encouragement. Thank you also to Olga, Beth, Gareth and Natalie for so kindly hosting me on their blogs this week.
For your chance to win a paperback copy of Tudor Places of Great Britain, simply leave a comment on this post telling me the name of your favourite Tudor place and why it's your favourite. Leave your comment by midnight Friday 11th December. One comment will be picked at random and the winner notified by email. Good luck!
When we think of medieval and Tudor buildings, we tend to think of palaces, castles and manor houses, properties in acres of grounds or surrounded by walls or moats. Yet some Tudor properties are hiding in plain view on our high streets, buildings that many people take for granted and don't even give a second look as they walk to work or to the shops.
Whitehall Museum
You can be forgiven for completely ignoring this property as you drive down Malden Road in Sutton, Surrey, because of its white 18th century weather-boarded frontage. However, hiding behind that is a historic timber-framed Tudor house dating back to around 1500; a two-storey wattle and daub jetty building, which is believed to have been a yeoman farmer's house and which is now a museum.
Highlights include:
Wooden mullioned windows
The Nonsuch Palace exhibition – This includes a miniature model of the palace and fragments from the original building discovered during the 1959 archaeological dig
The Graffiti Door, which dates back to the time of the English Civil War and which has graffiti with Catholic and Royalist associations
The well in the garden, which is thought to have been dug in around 1400.
Sutton House
Set on Homerton High Street in Hackney is the oldest residential property in Hackney, a three-storey Tudor manor house built in 1535 by Sir Ralph Sadler, secretary to Thomas Cromwell and later King Henry VIII, and known back then as "the bryk place". Although its past occupants did make alterations to the property, including dividing the house into two residences in the 1750s, Sutton House is still at heart a Tudor building and its rooms transport visitors back in time to the 16th century. It is fully open to the public so don't walk past, instead pop in and enjoy its original oak-panelled rooms, original carved fireplaces and charming courtyard.

Plas Mawr
Plas Mawr, or "The Great Hall", is an Elizabethan townhouse located in the heart of the town of Conwy, North Wales. Described by Cadw, the historic environment service of the Welsh government, as "an Elizabethan gem worth its weight in gold", Plas Mawr was built between 1576 and 1585 by well-travelled and influential merchant Robert Wynn. Wynn's house stands as testimony to his love of grandeur, colour and hospitality, with its colourful ornamental plasterwork and friezes, and the skilful carpentry. The house's furnishings are based on an inventory taken in 1665 and many are original, and the décor and gardens are also based on what the house would have looked like in 1665 in the time of Robert Wynn's grandson, also Robert.
The house has been described by historian Rick Turner as "the finest surviving townhouse of the Elizabethan era".
Tudor Merchant's House
The Tudor Merchant's House, Tenby, is thought to be the most complete surviving example of Tenby's Tudor domestic architecture. A 15th century date is accepted by many for this small first floor hall house, which may have been associated with Tenby's heyday as a port. Strategically placed in relation to the Bristol Channel and Irish Sea, Tenby was a prosperous medieval and Tudor port. However, the town declined due to the disruption of sea trade by foreign wars, the ascendance of Pembroke and Narberth as market towns, the Civil War, outbreaks of plague and increasing control of fish stocks by West of England fishermen, and many medieval and Tudor buildings fell into ruin. Eventually, most of medieval and Tudor Tenby was demolished or re-modelled to make way for the Georgian and Victorian terraces that now characterise the town, and the Tudor Merchant's House is the only domestic building to have survived intact to bear witness to the town's early origins and pre-eminence.
The property is now a museum with Tudor shopfront, Tudor kitchen and Tudor artefacts, taking visitors back in time to the 15th century.
Shakespeare's Birthplace
I grew up just a few miles from Stratford-upon-Avon and it's where our family often went shopping on a Saturday, so I'm guilty of hurrying past this historic property while trying not to get into tourists' photos, and just focusing on getting my shopping done. This beautiful half-timbered Tudor house can be found on Henley Street, one of the town's oldest streets, and was purchased by William Shakespeare's father, John, in 1556. It now houses a museum and the "Famous Beyond Words Exhibition" which explores William Shakespeare's life story. Even if you haven't got time to go inside, it's worth pausing a while outside and just taking in the beauty of this house and perhaps muttering some Shakespeare under your breath. Just be careful not to photobomb anyone's photo!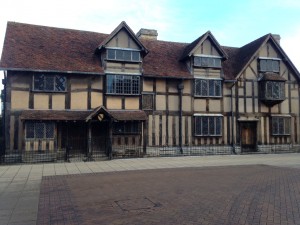 Stratford-upon-Avon
Shakespeare's Birthplace is not the only Tudor attraction that Stratford-upon-Avon has to offer. Other attractions include:
Tudor World – An unusual, small, independent museum set within a Tudor property on Sheep Street, in the heart of Stratford-upon-Avon. It does not have artefacts or period furniture but instead recreates different areas of Tudor life, interwoven with stories of the building's rich history (on a site that dates back to the birth of the town in the 12th century) and the history of Stratford itself.
Holy Trinity Church – the 13th century church, which is the resting place of William Shakespeare, Anne Hathaway and members of their family.
Nash's House and New Place – William Shakespeare died at New Place in 1616 and although the house is no longer standing, visitors can enjoy the garden and see the mulberry tree which is said to have been grown from a cutting planted by the bard himself. The site is also home to the "Dig for Shakespeare" archaeological project.
Anne Hathaway's cottage – this cottage in nearby Shottery was the childhood home of William Shakespeare's wife, Anne, and dates back to the early 1460s.
Mary Arden's Farm – home of Shakespeare's grandparents and his mother, Mary Arden. Visitors to the farm can learn all about Tudor and Elizabethan rural life.
Hall's Croft – the elegant 17th century home of Shakespeare's daughter Susanna and her husband Dr John Hall. Visitors can visit Dr Hall's consulting room and see 17th century medical artefacts and Dr Hall's medical notes.
And you will also see plenty of Tudor properties as you do your shopping too, they're unmissable with their black and white walls. My brother once ran a gift shop in Henley Street and in his shop was a glass window on the wall showing visitors the original wattle-and-daub structure – it was brilliant, but most visitors didn't even notice it.
Tudor villages
But if the Tudor properties of Stratford-upon-Avon aren't quite enough for you, why not visit the Herefordshire village of Weobley which is regarded as one of the best preserved Tudor black-and-white villages in the UK? It really is charming and is like stepping back in time. A must-do is the Weobley Heritage Trails which takes visitors around the village following plaques that explain the history of buildings and what happened there in the past.
Or how about Lavenham in Suffolk? Lavenham rose from humble beginnings to become the fourteenth richest town in England during the medieval era, an astonishing achievement for such a modest sized place and due in large part to its success as a centre of the lucrative wool trade. It is known for its medieval crooked houses, narrow streets, Tudor guildhall and lovely parish church of St Peter and St Paul. Definitely worth a visit.
Those are just some of the Tudor treasures on Britain's streets and there are plenty more!
Don't miss my other book tour stops and giveaways: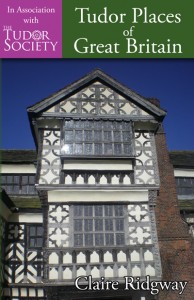 Tudor Places of Great Britain is available as a Kindle book and paperback from Amazon – click here – and from other book retailers as a paperback.
Images
Whitehall Museum – © Copyright Roger Miller and licensed for reuse under this Creative Commons Licence.
Sutton House – © Copyright Vicky Ayech and licensed for reuse under this Creative Commons Licence.
Plas Mawr – © Copyright Rob Farrow and licensed for reuse under this Creative Commons Licence.
Tudor Merchant's House – © Copyright Jo Turner and licensed for reuse under this Creative Commons Licence.
Shakespeare's Birthplace – © Claire Ridgway 2013.
Wattle and daub – © Claire Ridgway 2013.
Weobley – © Copyright Colin Smith and licensed for reuse under this Creative Commons Licence.
Lavenham – © Copyright Ron Strutt and licensed for reuse under this Creative Commons Licence.