The Carthusian Monastery of Granada – La Cartuja de Granada
Posted By Claire on May 6, 2013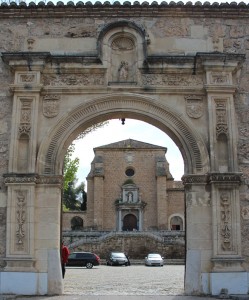 I spent Friday in the beautiful Spanish city of Granada. As I live quite near it, I've been many times but I had never visited La Cartuja (the Carthusian Monastery) or La Capilla Real (the Royal Chapel) so that was my mission.
El Monasterio de Nuestra Señora de la Asunción, now known simply as La Cartuja de Granada, is a monastery of the Carthusian order which dates back to 1516. It is known for its beautiful Baroque church and sacristy, but I had come to see something else: the refectory with its series of paintings by Fray Juan Sánchez Cotán.
The refectory was a simple white-washed room with vaulted arches, stark in comparison to the rich marble and gold of the nearby church, but it held treasures for me. On its wall, were a number of painting by the famous Baroque painter and monk, Fray Juan Sánchez Cotán, telling the stories of Carthusian monks who had been persecuted for their faith. Included in the series, were paintings of the Carthusian monks killed by Henry VIII for refusing to recognise him as the Supreme Head of the Church. In the paintings, Sánchez Cotán depicts the monks being brought before Cromwell, some of the monks being imprisoned and chained in an upright position and others being hanged, drawn and quartered.
[slideshow id=533 w=400 h=400]
If you're ever in Granada, the monastery is well worth a visit. Highlights include:
The pretty cloisters with orange trees
The breathtaking frescoed cupola and huge marble tabernacle of the sagragario (sanctuary)
The beautiful sacristy with its unusual brown and white swirled Lanjarón marble, and cabinets and drawers inlaid with mahogany, ebony, lignum vitae, ivory, shell and silver.
The gilt and mirrored altar which is said to have some of the bones of San Bruno (Bruno de Hartenfaust), founder of the Carthusian order, embedded in it.
Works by Juan Sánchez Cotán, Pedro Atanasio Bocanegra, José de Mora and Antonio Palomino
Photography was not allowed in the monastery's church but I found some photos on Flickr – click here to view them.
You can find out more about the persecution of the Carthusian monks in my article 19 June 1535 – 3 Carthusian Monks Hanged, Drawn and Quartered.
In my next post, I will be writing about my visit to the Capilla Real, stay tuned!