7 May 1536 – William Latymer Searched at Sandwich
Posted By Claire on May 7, 2013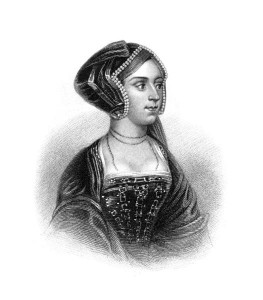 On Sunday 7th May 1536, William Latymer, one of Queen Anne Boleyn's chaplains, was stopped and searched on his arrival back in England at Sandwich, in Kent. He was returning from a business visit to Flanders, a visit he had undertaken on behalf of the Queen.
A letter from the Mayor and Jurates of Sandwich to Henry VIII recorded the search:
"On Sunday, 7 May, Sir Wm. Latymer, one of the Queen's chaplains, arrived at Sandwich, where he was told that the Queen and others were prisoners in the Tower. He said that he had come from Flanders on her business, and showed the contents of his budget and purse to the mayor and jurates, as Thos. Boys, one of the King's servants then present, can testify. Enclose a list written by him of the books he had with him, and of others in his mail, which had not yet arrived, but which were to be conveyed to London to one Mrs. Wilkinson. Boys will convey Latymer himself to the King. Sandwich, 8 May."1
Fortunately, no books or pamphlets of an heretical nature were found on Latymer and her was escorted to London. Latymer, however, was a keen reformer and had previously brought religious literature back from the Continent for Anne. Luck, or rather God, was with him this time.
Also around 7th May, Sir William Kingston wrote to Thomas Cromwell of Anne Boleyn's repeated requests to the King that "she [might] have the sacrament in the closet by her chamber"2 and that her almoner, John Skip, should also be permitted to visit her. The problem with Anne's request regarding the sacrament was that she was being charged with a sin of a sexual nature and a sin that she had not confessed to or done penance for. It would, therefore, "have been highly inappropriate for an adulteress to have the Host displayed in her rooms."3 Kingston also reported Anne's hope that her bishops would appeal to the King on her behalf, but her steadfast faith in the face of death if the appeals did not work:
"And then, she said, shall I be in Heaven, for I have done many good deeds in my days."4
Notes and Sources
LP x. 827
LP x. 793
Russell, Gareth (2010) May 7th – The Faith of the Prisoner".
LP x. 797