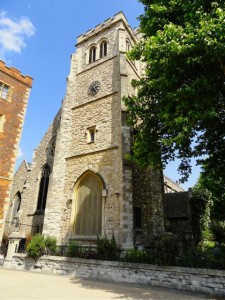 Today, we have a guest article from Dr Linda Saether who decided to go to Lambeth, after her time on The Executed Queens Tour, to track down the resting place of Elizabeth Boleyn (née Howard), mother of Queen Anne Boleyn.
Searching for the Grave of Elizabeth Boleyn, Countess of Wiltshire
by Dr Linda Saether
When the Countess of Wiltshire, Elizabeth Boleyn, drew her last breath on Wednesday the 3rd of April 1538, she wasn't within the familiar walls of Hever Castle. Hever had been her home through most of the extraordinary life she had shared with her husband, Thomas Boleyn. Instead she drew her last breath at the home of Hugh Cook Faringdon, the Abbot of Reading, near Baynards Castle in London. This location would have been near the Millenium Bridge along the north bank of the Thames. Little if anything remains of Baynards now.
On April 9th of 1538 John Husee wrote the following to Lady Lisle:
"My Lady of Wiltshire was buried at Lambeth on the 7th. My Lord Comptroller was chief mourner for the men and Lady Dawbny of the women. She was conveyed from a house beside Baynard's Castle by barge to Lambeth with torches burning and four baneys set out on all quarters of the barge, which was covered with black and a white cross. At her burial was the King of Heralds, a herald and a pursuivant."1
Once at Lambeth she was brought to St. Mary's Church where her body was laid to rest in a crypt beneath the floor of the Howard Chapel. The chapel had been the resting place for several of her Howard relatives from 1522 forward. At some point the graves would have been marked.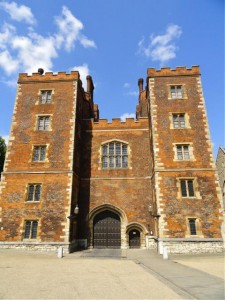 A headstone marked with the name Elizabeth Howard in St. Michaels in Framlingham, Suffolk, sometimes labeled Elizabeth Boleyn marks the grave of a child, not Elizabeth Howard, The Countess of Wiltshire, married to Thomas Boleyn whom we know lies in Lambeth.
While in London a few weeks ago, I made a trip to Lambeth in search of the grave of Elizabeth Boleyn, and answers to the many questions I have about this woman for whom I have found such empathy. Among these questions is why wasn't she buried at Hever and why was she in London in April of 1538?
I walked along the south banks of the Thames, enjoying the view of the Parliament Buildings directly across from me and found St. Mary's Church and Lambeth Palace only slightly further west on Lambeth Road.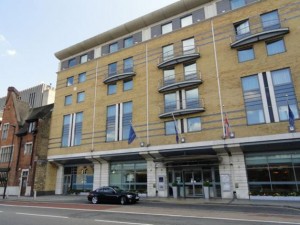 St. Mary's must have looked similar when Elizabeth Boleyn visited the Howard Chapel. Much as it had been when the young Howard girl, who was to become Queen Catherine Howard, walked across the street to St Mary's from Norfolk House. That was where she'd grown up as an orphan under the careless supervision of her Aunt Agnes, the Duchess of Norfolk. Today, The Novatel Hotel stands on the site where the Norfolk House once was and hotel guests now have the same view of St. Mary's from their windows.
I spent a few moments outside of St. Mary's in a small enclosed garden that looked unaffected by time or the bustle of modern London surrounding it. Old graves were now unmarked from the wear of centuries. Yet that little spot still looked unchanged by the passing of time. Even the plants looked as they'd appeared year after year in exactly the same fashion as though the many intervening gardeners had somehow known to leave things be.
St. Mary's today is no longer a place of worship but has become the home of The Garden Museum. This much is made clear from signage on the exterior. All the same it was surprising to walk into a centuries old church and see the stone walls framing a very modern display of plant and garden items of all kinds.
At a ticket counter inside the foyer a smiling young woman asked me to make a donation to the museum. I did. And then I stepped forward on to the large pine floor of the nave facing the area where the altar once had been. There is no high altar now and there are no pews in the nave. The stone arches soaring above me and the exterior walls were as they had always been. Yet everything else had been cored out and transformed.

The blend of the ancient and the modern is startling as you step across the threshold of what you believe should be a solemn place of worship. There are plants everywhere. But in the area where worshipers sung their hymns there is still a wide open space.
A display wall covered with photos of flowers was placed across the altar space partially covering large black stone slabs in the floor. One inscription read : "Here lyeth the Body of Anne, late wife of Thomas Lord Archbishop of Canterbury. She departed this life on the XII of February MDCCXV". This marks the tomb of the wife of Thomas Tenison, Archbishop of Canterbury.
I wanted to see the rest but there was no passageway behind the wall. To the right, in what must have been a small chapel, there's now a gift shop. It sells cards, gardening gloves, tiny rakes, and gardening books.
I knew the Howard Chapel would be to the left and I felt a bit sad as I turned to see that the pine floor extended right through the chapel that had now become the museum coffee shop.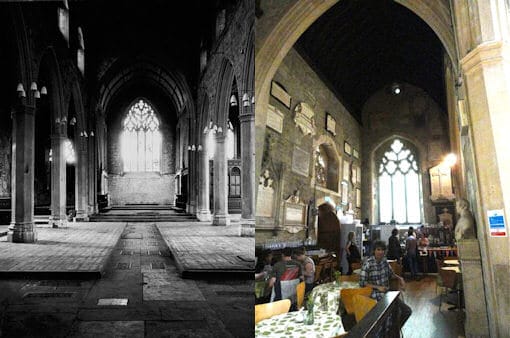 Where the young Catherine Howard had gathered her gown about her and sat obediently in the Howard pews, cafe lattes are now served.
Below that bleached pine floor of the cafe, having left so little to remember her by, rests the body of Elizabeth Boleyn. Nothing marks her grave or the graves of so many of her Howard family members, once one of England's leading families.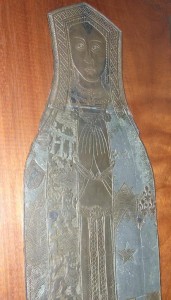 I asked the young cashier who'd accepted my donation to the garden museum if anyone could tell me about the church. This is when Phillip appeared and became my link to the past. He was kind enough to share a wedding photo he'd received from a woman who had married in the church in the 1950's and another photo from renovations in 1977 when the original flooring had been covered. He also shared photos of the brass of Thomas Clere and Kathrine Howard, the Lady Effingham, and also the Duke's of Norfolk Coat of Arms.
Philip also provided an extensive list of Howard family members buried at St. Mary's. Among them were several of Elizabeth's well married sisters who were buried here and not in their husband's family crypts.
This gives rise to some interesting questions. Were Howard women expected to be "brought home" for burial in the Howard Chapel regardless of whom they married? Lady Elizabeth apparently had an extensive network of friends whom she visited so being in London was perhaps not unusual. But did she go to London and the home of the Abott of Reading because she knew she was dying?
In a letter to Lady Lisle on April 7th, Lady Frances Basset mentions in the midst of a news filled letter "My Lady Wiltshire died Wednesday before last"2. She then continues on with irrelevant news. Was so little said because her death was known to be long coming?
We don't know if Thomas was at her side during her last days. We do know her sister Lady Katherine Howard, the audacious Lady Rhys, (Lady Daubney) mourned her at her funeral and later accompanied her to the same grave beneath the chapel floor in 1554 .
I left Lambeth having come close to the grave of Elizabeth Boleyn. I also left with more insight to the Howard family and more questions about their remarkable and interwoven lives than before.
Much thanks to Philip for sharing his abundant knowledge and caring for the church that will always be the final resting place for so many members of this remarkable family.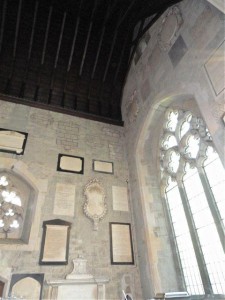 Burials in S Mary's, Lambeth
Thomas Howard, 2nd Duke of Norfolk – Born 1443. Died 21 May 1524 at Framlingham Castle. He was initially buried at Thetford Priory, which was destroyed in the dissolution of the monasteries, and then moved to the Howard Chapel, built in 1522. His flat gravestone of grey marble was recorded by Nichols in 18th century. Lived at Norfolk House. Son of 1st Duke and Katherine Molyns, husband of (1) Elizabeth Tilney and (2) her sister Agnes. Grandfather of Queen Katherine Howard and Queen Anne Boleyn. Defeated the Scots at the Battle of Flodden, created Duke and Earl Marshall of England in 1514.
Agnes, Duchess of Norfolk, died 1545. Buried in Howard Chapel. Nee Tilney, 2nd wife (married 1497) of Thomas Howard, 2nd Duke of Norfolk who was earlier married to her sister Elizabeth.  Lived at Norfolk House. Step-grandmother to Queen Katherine Howard and her 'guardian'.
Children of the 2nd Duke and Agnes (confusingly two daughters are called Elizabeth): John d.1501; John d.1503;
Charles d.1512; Henry d.1513; Richard d.1517; Elizabeth Howard, Lady Elizabeth Fitzwalter (or Fitzwater) d. 18 Sept 1534. 1st wife (m. before 21 May 1524) of Sir Henry Radcliffe, Earl of Sussex and Viscount Fitzwalter (or Fitzwater), Lord Egremont and Burnell, mother of Thomas & Henry (3rd & 4th Earls) & Robert. Attendant to Anne Boleyn when Henry VIII met Francois I at Calais in 1535.
Elizabeth Howard d.1538. Daughter of Elizabeth Tilney and Thomas, 2nd Duke of Norfolk.  Wife of Thomas Boleyn, Earl of Wiltshire and Ormonde.  Mother of Anne Boleyn (the 2nd wife of Henry VIII), sister of Lord Edmund Howard, aunt of Queen Katherine Howard; sister of Thomas, 3rd Duke of Norfolk
Katherine Howard d.1554. Daughter of Thomas Howard, 2nd Duke of Norfolk and Agnes Tilney. 1st husband: Sir Rhys Ap Griffith (Thomas), 2nd husband: Henry Daubenay, 1st Earl of Bridgwater.
Anne Howard, Countess of Oxford. Died 1558-9. Buried in Howard chapel. Daughter of Thomas Howard, 2nd Duke of Norfolk; wife of John de Vere, 14th Earl of Oxford.
Other family members/ connections buried in St Mary's
Katherine Howard d.1535, Lady Effingham. Daughter of John Broughton, wife of Lord William Howard (son of Thomas 2nd Duke of Norfolk) Treasurer and Earl Marshall of England, mother of Agnes Howard. Katherine and William were indicted for concealing the the misdemeanors of Queen Katherine Howard (their niece) and sentenced to imprisonment.
Thomas Clere, d.1545. Youngest son of Sir Robert Clere of Ormesby in Norfolk, descended from De Cleremont family who arrived with William the Conqueror.  Mother was a daughter of Sir Edward Boleyn and Margaret (daughter of Thomas Earl of Ormond).  Thomas Clere was cousin of Queen Anne Boleyn.  Epitaph written by the poet Henry Howard, Earl of Surrey, his confidential friend.
Elizabeth Howard, Duchess of Norfolk, died Nov 1558. Buried in Howard Chapel in black marble table tomb. Lived at Norfolk House. Daughter of Edward Stafford, Duke of Buckingham (beheaded 1521), sister of Henry Lord Stafford. Married Thomas Howard, 3rd Duke of Norfolk, in 1512/1513 as his second wife (separated 1533 or 4); mother of Henry Howard Earl of Surrey and Poet (born 1516/1517) and Mary Howard, later wife of Henry Fitzroy, Duke of Richmond.
Princess Anne of York, Lady Anne Howard – Born 2nd Nov 1475 at Westminster. Died winter 1512-13 of consumption (another date given is 1511) Lived at Norfolk House. Daughter of Edward IV, had 3 brothers, 6 sisters and 2 half-brothers, engaged to Philip only son of Mary of Burgundy & Emperor Maximilian of Hapsburg in 1480. First wife, in 1495, of Thomas Howard, Earl of Surrey, 3rd Duke of Norfolk. Children died young: 1)Henry Howard, Feb 1502. Buried in Howard Chapel – had brass plate. 2)Thomas Howard, died Aug 1508. Buried in Howard Chapel. 3)Charles Howard. Died 3 May 1512, Buried in Howard Chapel. 4)Henry Howard, died 22 Feb 1513. Buried in Howard Chapel. Lived at Norfolk House, Son of Thomas Howard, Duke of Norfolk and possibly Anne depending on the date of her death.
Richard Howard, died 22 March 1517. Buried in Howard Chapel. Lived at Norfolk House. Son of Thomas Howard, 2nd Duke of Norfolk and Agnes Tilney (his 2nd Wife).
Muriel (Marcella) Howard – Sister of Elizabeth Boleyn, died around 1512/1513, married to John Grey, Viscount Lisle (d. 1504) and then Sir Thomas Knyvet.
Associations with St Mary's, Lambeth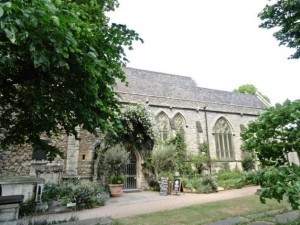 Katherine Howard (Queen), born c1521, executed 1542. Lived with her step-grandmother and ' guardian' Agnes Tilney, Dowager Duchess of Norfolk at Norfolk House, Lambeth, opposite St Mary's church. Henry VIII courted her there and they married at Oatlands Palace, she was his fifth wife. Daughter of Lord Edmund Howard (son of 2nd Duke of Norfolk) and Joyce (Jocasta) Culpeper (Colepeper).
Notes and Sources
LP xiii part 1 717
LP xiii. part 1 696