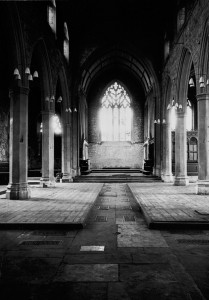 Following on from Linda's article on the resting place of Elizabeth Boleyn (née Howard) at Lambeth, Marilyn Roberts sent me the following article as the Howards are her area of expertise and she has spent considerable time researching them.
More on the Howard Chapel and Norfolk House, Lambeth
by Marilyn Roberts
I was really pleased to read Linda Saether's article and glad that she had such a heartening experience at the Garden Museum in Lambeth. A few years ago I wrote a book on the Mowbray family, the original Dukes of Norfolk from whom the Howards are descended (www.queens-haven.co.uk), which is coming up for revision shortly. Three years ago I decided to follow-up on Mowbray and Howard London connections, which I saw as providing material for an appendix, and now, over 50,000 words later, I have the makings of another book!
As Linda would probably tell you, Lambeth in general is now not the most quaint of places, and it is difficult to equate the Novotel and neighbouring buildings on Lambeth Road and the small recreation ground behind them with what was once a Tudor mansion, Norfolk House, set in acres of garden and orchards where the young Katheryn Howard strolled with her paramours; even Costa Coffee's roasting works stands beside the railway arches carrying trains to Waterloo Station.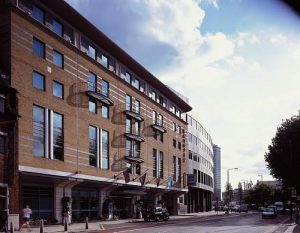 The Novotel at 113 Lambeth Road is in the foreground, with the premises of the Royal Pharmaceutical Society of Great Britain alongside; Norfolk House itself stood where the hotel is now. The tree to the right blocks the view of Lambeth Palace and the Howards' local church, now the Garden Museum.
I started off looking at the archaeology of the house itself but was drawn in by the people, especially Agnes Tilney, Katheryn Howard's step-grandmother, whom I now believe has had a raw deal over the centuries. She is generally reviled for having run a lax household, but actually appears to have done her best to keep her house in order.
So little is really known about Katheryn's life at Norfolk House, and we have to remember that what we do have is very biased and all from the same source. It was written down and became public knowledge, not at the time it was happening, but after falling from the mouths of those of her terrified former companions being interrogated in the late autumn and early winter of 1541/42 with varying degrees of severity, and all out to save their own skins.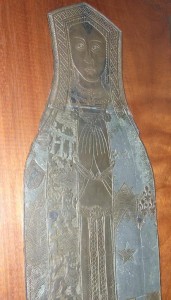 Philip Norman and I discussed at the Garden Museum last autumn how erroneous information can become part of the supposed fund of true knowledge, a good example of which is the information that usually accompanies the Katherine Howard brass at Lambeth. We are told that she was the wife of Lord William Howard and was imprisoned with him in the Tower in 1541 for having concealed knowledge of Queen Katheryn Howard's misdemeanours; this cannot be true as this lady died in 1535. The Lady Howard in the Tower was Lord William's second wife, Margaret Gamage, and the misinformation has been handed down and not questioned since it was published in eighteenth-century histories – by eminent historians of the day, no less! This Katherine is also referred to as Lady Effingham, but her husband did not receive the manor of Effingham in Surrey until 1551, and did not become Lord Howard of Effingham until 1554, nearly twenty years after her death. Norfolk House itself is sometimes said to be in the county of Norfolk, instead of in Lambeth, and you can find examples of this sort of thing all the time. The worst 'sin' as far as I am concerned is the glib assertion, often by people who should know better, that Queen Katheryn was raised in Lambeth Palace, the home of the Archbishop of Canterbury. Don't get me started on that one!
Like some of the comments on Linda's article suggest, it could feel uneasy or disrespectful to be drinking coffee in the Howard Chapel café with the possibility that Duchess Agnes and her step-daughter Elizabeth Boleyn could be lying a few inches beneath your feet, but I don't think we should be too hard on the Garden Museum for its present use of the premises. Although much of the tower is original, it was the Victorians who recklessly demolished and rebuilt the church of St Mary-at-Lambeth, and showed no respect at all for its Howard burials, smashing their way through tombs and memorial tablets. The church was deconsecrated in the 1970's and was due for demolition when it was rescued almost at the last moment and became the Museum of Garden History (now the Garden Museum), so actually we should be grateful the museum is there. We should also be grateful for Philip Norman, mentioned by Linda, who, for the enthusiasm with which he guards the memories and few remaining treasures of this building, should be seen as a treasure in his own right.
To Linda Saether: congratulations on having done such a good job in a short time. Maybe one day we can meet in the Howard Chapel café and raise a glass of something to the memory of the noble ladies at rest beneath our feet.
(Marilyn Roberts is a freelance writer and lecturer. She is also Collections Care Co-ordinator at Epworth Old Rectory Museum, North Lincolnshire, the childhood home of John and Charles Wesley.)
See Dr Linda Saether's article "Searching for the Grave of Elizabeth Boleyn, Countess of Wiltshire".