Queen Katherine Howard: The Royal Stepmother – Guest Article by Conor Byrne and Giveaway
Posted By Claire on October 27, 2014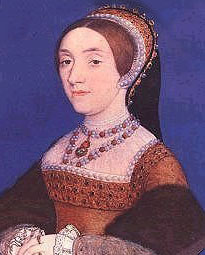 Today I'm delighted to be the first stop on Conor Byrne's virtual book tour for his biography of Katherine Howard, Henry VIII's fifth wife, Katherine Howard: A New History. Over to Conor…
Henry VIII's children were accustomed to having stepmothers. Mary, daughter of Katherine of Aragon, had five stepmothers; Elizabeth, daughter of Anne Boleyn, had four; and Edward, son of Jane Seymour, had three. Katherine Howard, fifth wife of Henry VIII, was their youngest stepmother by some distance. When she married the king in the summer of 1540, she had probably not yet reached her seventeenth birthday.1
The principal duty of the queen, as Henry VIII's reign infamously demonstrates, was to bear sons, but his wives were unique in that all of them, except Katherine of Aragon, had stepchildren to contend with. The experiences of Henry VIII's wives as stepmothers differed substantially. Anne Boleyn experienced a notoriously volatile relationship with her stepdaughter Mary, although most historians have dismissed the Spanish ambassador's allegations that she poisoned her and desired to kill her.2 Jane Seymour's queenship has been interpreted by historians as less active than that of her predecessor. She appears to have enjoyed warm relations with Mary, although her relationship with Elizabeth is less well-known. Anne of Cleves got on well with all of her stepchildren and became especially close to the two girls. The experiences of the queen as stepmother depended on several things: her age, her family, her religion, the circumstances of her reign and politics. The dissolution of her parents' marriage and the religion and family of her new stepmother rendered Mary hostile to Anne Boleyn, while the circumstances of Jane Seymour's rise to queenship may have placed her in an ambiguous relationship to her younger stepdaughter Elizabeth. As a foreign bride, Anne of Cleves' situation was different to that of her two predecessors. Her tenure, lasting only six months, did not prevent her from enjoying warm relationships with her stepchildren.
Thus there were several factors at play affecting Katherine Howard's status as stepmother when she became queen. Because Mary seems to have been close to Anne of Cleves, she may have initially responded negatively to Katherine. Historians have traditionally characterised the new queen's relations with her eldest stepchild as being fraught with conflict. Twenty-four year old Mary was around seven years older than Katherine. Chapuys reported at Christmas that the queen intended to remove two of Mary's maids as a punishment for her failure to treat Katherine with the same respect with which she had treated Jane and Anne of Cleves. Chapuys did record, however, that Mary had hastened to conciliate the queen.
3
In The Tudors, Katherine is presented as an immature, wilful teenager who resents the respect accorded Mary, while for her part Mary snubs the queen and treats her with disdain. Historians have seized upon Chapuys' evidence to characterise relations between Mary and Katherine as being difficult. Lacey Baldwin Smith explained that "it was almost inevitable that the two ladies should have clashed, for they were the antithesis of each other".
4
However, aside from Chapuys' reports there is no other evidence that the two resented or disliked one another.
5
The two treated one another cordially thereafter. At New Year 1541, Mary sent her new stepmother a gift, at which Henry was said to have shown great pleasure. In May 1541, Chapuys reported that Katherine had "countenanced… with good grace" her husband's decision to allow Mary to reside at court.6 Katherine later gave her stepdaughter the gift of "a pomander with gold wherein is a clock enamelled with divers colours, garnished with xij small rubies, having a chain of gold hanging at it, containing viij pieces of gold of one fashion enamelled black, garnished with xvj small rubies and xvj small turquoises, xxiiij small pieces of gold, and xxxij pearls in links of gold of the same chain".7 Relations with Mary may not have been, therefore, as negative as has been often believed.
By contrast, historians have often suggested that Katherine enjoyed a close and affectionate relationship with her younger stepdaughter, Elizabeth, who was related to her through her mother Anne Boleyn.8 The queen, as with Mary, bestowed upon Elizabeth gifts of jewellery.9 In May 1541, Katherine journeyed to Baynard's Castle and Chelsea, possibly with the intention of supervising Elizabeth's residence.10 At about this time, she also encouraged a visit to the household of Prince Edward at Waltham in Essex, accompanied by both Mary and the king.11 Aside from that, there is little evidence of interaction between Katherine and her younger stepchildren, although Denny's speculation that Katherine behaved kindly towards Elizabeth in particular may be true.
Unlike her successor Katherine Parr, Katherine was at best a fairly marginal figure in the lives of her three stepchildren, which is something of a paradox given her status as queen of England. However, extant evidence indicates that, similarly to both Jane Seymour and Anne of Cleves, Katherine's influence was limited. It has often been argued that Jane Seymour supported the cause of Mary, but some historians have now called this into question, and Anne of Cleves, while enjoying close relations with Henry VIII's children, did not exert a tremendous influence over their affairs. Anne Boleyn's role in the life of Mary was exceptional, although sceptically assessing Chapuys' vitriolic reports leads to the conclusion that she was possibly less concerned with Mary than he believed. With the exception of Katherine Parr, then, Henry's wives were not hugely influential in their roles as stepmother. David Starkey is correct to assert that Katherine Howard sought to create and maintain a family atmosphere at court, but surviving evidence indicates that, as with her two predecessors Jane Seymour and Anne of Cleves, any influence held by her as stepmother was not particularly significant, although she did seek to maintain good relations with the offspring of her husband.
Giveaway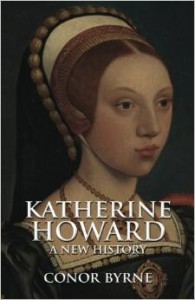 MadeGlobal Publishing is offering one copy of Conor's Katherine Howard: A New History as a giveaway prize. All you have to do is comment below saying what interests you about Katherine Howard to be in with a chance of winning the book. Comment before the end of Friday 31st October. A comment will be picked at random and the winner announced here and on Facebook on Monday 3rd November. The giveaway is open to everyone worldwide.
Book blurb:
In this new full-length biography of Katherine Howard, Henry VIII's fifth wife, Conor Byrne reconsiders Katherine's brief reign and the circumstances of her life, striping away the complex layers of myths and misconceptions to reveal a credible portrait of this tragic queen.
By reinterpreting her life in the context of cultural customs and expectations surrounding sexuality, fertility and family honour, Byrne exposes the limitations of conceptualising Katherine as either 'whore' or 'victim'. His more rounded view of the circumstances in which she found herself and the expectations of her society allows the historical Katherine to emerge.
Katherine has long been condemned by historians for being a promiscuous and frivolous consort who partied away her days and revelled in male attention, but Byrne's reassessment conveys the mature and thoughtful ways in which Katherine approached her queenship. It was a tragedy that her life was controlled by predators seeking to advance themselves at her expense, whatever the cost.
Katherine Howard: A New History is available from Amazon.com, Amazon UK or your usual bookstore.
Tour Schedule
Here's the schedule for Conor's virtual book tour for the rest of the week, with 4 more chances to win a copy of his book:
Amy Licence Giveaway Winner
Congratulations to Julia Stent who has won a copy of Amy's book The Six Wives & Many Mistresses of Henry VIII: The Women's Stories.
Notes and Sources
Katherine seems to have been born in 1523, probably in the latter half of that year. See C. Byrne, 'Katherine Howard's Birthday' (2014); accessed online at http://onthetudortrail.com/Blog/2014/08/01//katherine-howards-birthday-a-guest-post-by-conor-byrne.
For example, Eric Ives, The Life and Death of Anne Boleyn: The Most Happy (Oxford, 2004), and Retha M. Warnicke, The Rise and Fall of Anne Boleyn: Family Politics at the Court of Henry VIII (Cambridge, 1989).
LP XVI 314
Lacey Baldwin Smith, A Tudor Tragedy: The Life and Times of Catherine Howard (London, 1961), p. 141.
Conor Byrne, Katherine Howard: A New History (Made Global Publishing, 2014), pp. 129-30.
LP XVI 835
LP XVI 1389
For example, Joanna Denny, Katherine Howard: A Tudor Conspiracy (London, 2005).
LP XVI 1389
David Starkey, Six Wives: The Queens of Henry VIII (London, 2004), p. 660.
LP XVI 835