#PortraitTuesday – Henry VIII's Wives – Richard Burchett and his students
Posted By Claire on August 22, 2023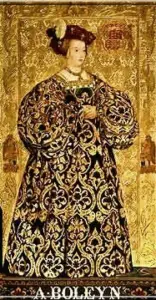 This week's #PortraitTuesday treat is by Richard Burchett and his students from the Palace of Westminster, London.
Richard Burchett was a 19th century artist who also held the post of headmaster of the Royal College of Art. Burchett was known for his large history paintings and for decorating the interiors of public buildings like the Palace of Westminster and the Victoria & Albert Museum. His portraits of Henry VIII's six wives were done in oil and date to 1854-60.
What's interesting about these portraits of Henry VIII's wives from the Palace of Westminster is the one of Anne Boleyn.
Unfortunately, the artist appears to have based it on a portrait of Anna of Bohemia and Hungary (1503-1547), Queen of Germany, Bohemia, and Hungary and Archduchess of Austria, by Hans Maler. Anna was the wife of King Ferdinand I, who became Holy Roman Emperor.
It is a beautiful image, it's just not Anne Boleyn!
I haven't seen these portraits 'in the flesh', have you? Click on them to enlarge.