#PortraitTuesday – A 17th-century engraving of Anne Boleyn by Renold Elstrack
Posted By Claire on August 29, 2023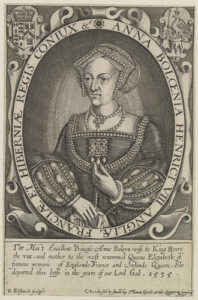 This week's #PortraitTuesday treat is a 17th-century engraving of Queen Anne Boleyn by Renold (Reginold) Elstrack (1570-c.1625).
Elstrack came from Belgium and it is thought that he studied under engraver Crispin van de Passe.
This engraving of Anne Boleyn dates to c.1618. The oval border bears the Latin inscription:
"ANNA BOLŒNIA HENRICI VIII ANGLIÆ FRANCIÆ ET HIBERNIÆ REGIS CONIUX &c."
And the text below it reads:
"The Most Excellent Princesse Anne Boleyn wife to King Henry and mother to the most renowned Queene Elizabeth of famous memorie of Englande, France and Irelande Queene. She departed this lyffe in the yeare of our Lord God. 1535 [1536]".
The Royal Collection Trust explains that this engraving was part of a collection overseen by publisher Compton Holland for a work that was published under the title "Baziliologia, a Booke of Kings, beeing the true and lively effigies of all our English kings from the Conquest untill this present with their severall coats of armes, impreses and devises and a brief chronologie of their lives and deaths". The book presented engravings of monarchs and their families from Henry VII to James II.
You can read more about this engraving and the collection of engravings at https://www.rct.uk/collection/680483/anne-boleyn-queen-of-england