#PortraitTuesday – An Anne Boleyn engraving by Cornelis Vermeulen
Posted By Claire on September 5, 2023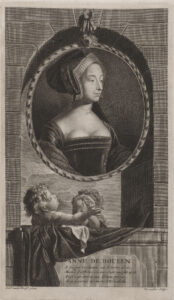 This week's #PortraitTuesday treat is an engraving of Anne Boleyn by Flemish printmaker Cornelis Vermeulen (1644-1708/9).
The engraving appeared as a plate in the "Histoire d'Angleterre" by Isaac de Larrey, which was published 1697-1713.
The Royal Collection Trust describe the engraving as an "Engraving of Anne Boleyn, Queen of England. Bust length figure of Anne Boleyn, Henry VIII's second wife, with hair under a gable hood, with jewelled necklace, low gown, and embroidered mantle. Within an oval border, portrait suspended by a ribbon, with two putti below, against an architectural background. With French inscription below." and as "after
Adriaen van der Werff (Kralingen 1659-Rotterdam 1722)".
The image measures 29.7 x 17.1 cm.
You can read Isaac de Larrey's "Histoire d'Angleterre" online at Google Books – https://books.google.es/books/about/Histoire_D_Angleterre_D_Ecosse_Et_D_Irla.html… – the portrait of Anne Boleyn is on page 268.
You can find out more about the engraving at https://www.rct.uk/collection/600871/anne-de-boulen