New Anne Boleyn Dress Launched
Posted By Claire on February 17, 2010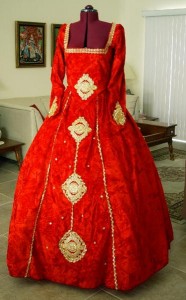 What better way to celebrate our first birthday than by launching the very first of our custom, handmade Anne Boleyn dresses?!
The Marquis of Pembroke red velvet dress was the Anne Boleyn dress which won the most votes in our site poll a few weeks ago, so Kris got busy designing it, drawing out the pattern and making it, and here it is!
It is an exquisite dress and it is now available to order here exclusively at The Anne Boleyn Files. It is not an "off the peg" dress, it will be made for you personally and to your very own measurements – that's my dress in the photo!
Anyway, here are the details:-
This gorgeous Anne Boleyn dress is a handmade replica of the one worn by Natalie Dormer as Anne Boleyn in Season 2 Episode 2 of "The Tudors", where Henry VIII makes Anne the Marquis of Pembroke (see slideshow below).
Your dress will feature:-
Stunning red velvet with hand-made fully beaded appliqués, beaded and sequined trim and metallic loopy trim
A fully lined bodice which is interlined with canvas
Boning throughout the bodice to give you that Tudor look
An elastic waist with toggle so you can let it out if you just happen to have a meal fit for a King
Availability in black velvet too
The bottom of the skirt has been serged and is ready for you to hem when you decide what shoes you want to wear with the dress. You can order it now at our Anne Boleyn Dresses page.
See slideshow below for front and back views:-
[slideshow id=198 w=450 h=325]
Matching Items
In the Marquis of Pemroke scene in "The Tudors", Natalie Dormer wears the Red Flower Earrings – see our earrings page – and an ornate ruby necklace, which Daniela is working hard on designing at the moment.
Ruby necklaces which would look great with this dress include the Anne Boleyn Snowflake Necklace, the Anne Boleyn Ornate Ruby Pearldrop Necklace, the Anne Boleyn Ruby Pearl Pendant or the Anne Boleyn Ruby Necklace – all found on our The Tudors Necklaces page or the Anne Boleyn Ruby Ivory Pearl Necklace or of course the Anne Boleyn B Necklace – see our The Tudors Pearl Necklaces page. Team one of those with our Anne Boleyn Ruby Ring and you'll look like a Queen, or the Marquis of Pembroke!! You could, of course, team the dress with our Anne Boleyn Pearl Crown in ruby to really feel regal!
Kris will also be making a matching French Hood to go with the dress – watch this space!
The next dress we are planning to launch is the Execution Dress in a few weeks time.