Anne Boleyn B Necklace
Posted By Claire on May 10, 2009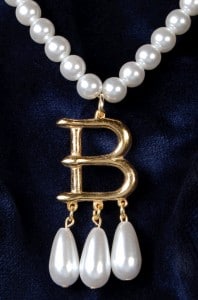 I'm so excited! A replica Anne Boleyn "B" Necklace is now available to buy on TheAnneBoleynFiles webshop – click here for details.
The "B" necklace was Anne Boleyn's favourite piece of jewellery and can be seen in the few portraits of her that still exist today. It was her signature piece and was passed down to Elizabeth I, along with her "A" necklace and "AB" brooch.
The origins of the distinctive Anne Boleyn B necklace are not known, but it is thought that it may have been a gift from her father, Thomas Boleyn. Personalised jewellery, with initials on it, was very popular at the time and it is said that Henry VIII had a brooch with his initials on it.
Some say that Anne Boleyn wore her trademark necklace to cover a wen or mole on her neck, but there is no evidence of this and, like stories of her having three breasts and six fingers, it was probably a rumour spread by the Catholic Conservatives to fuel the story that she was a witch who cast a spell over Henry VIII.
The Anne Boleyn B necklace has become popular today with people who have admired it in "The Tudors" or on Betty Suarez in "Ugly Betty". It is a beautiful necklace and will look good with an Anne Boleyn costume , t-shirt and jeans or a little black dress.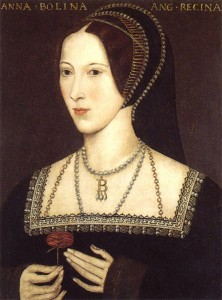 Our Anne Boleyn B necklace has been made by British jeweller, Steve Millingham, who has supplied pieces of jewellery for "The Tudors", "The Other Boleyn Girl", the West End production of "A Man For All Seasons", Hampton Court Palace, The Tower of London, English Heritage, the National Trust and various museums. Steve's Tudor jewellery has also been featured on special 500 Year Henry VIII Anniversary postage stamps.
The great thing about this replica B necklace is that even though it is gold-plated, it is only US$55! See the Product Page for full details.