Someone has informed me that yesterday's blog post about Anne Boleyn Day (19th May) and our competition was a bit complicated, so I do apologise! I get a bit carried away sometimes.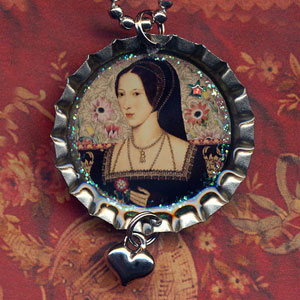 Anyway, I just wanted to draw your attention to our fabulous Anne Boleyn Day competition, where you can win yourself an exquisite Anne Boleyn necklace from our new Tiffini Elektra Anne Boleyn jewellery range.
All you have to do is write an article on why you think Anne Boleyn is still being talked about today and why people like me are addicted to Anne Boleyn, and you could win yourself this beautiful Anne Boleyn necklace.
Simply email your article of between 300 and 700 words (I'm not fussy really, get carried away if you want to!) to claire@theanneboleynfiles.com by midnight May 18th and I will choose the best article to publish here on TheAnneBoleynFiles.com. All the other articles will be published on our wiki site, so don't worry you will get your say!
So, get writing!