This year is the 500th anniversary of Henry VIII's accession to the throne of England and there are many special events going on to celebrate this – click here to see my "Henry VIII – 500 Year Celebrations" post for details of events in and around London and follow Henry VIII's own tweets on twitter at http://twitter.com/IamHenryviii.
However, although these events are great for Anne Boleyn fans, I decided to have a special Anne Boleyn Day on the 19th of May, the anniversary of Anne Boleyn's execution, to commemorate the life of this amazing woman.
Whatever your thoughts on Anne Boleyn, whether you think that she was a whore or witch, or whether you think that she was a martyr, you have to admit that Anne had a major influence over Henry VIII and that his love for her changed the course of English history. So, I'm starting Anne Boleyn Day, a day where we think of Anne and aim to educate people about her and rid the world of myths and stereotypes about her! (Can you tell that I'm standing on my soapbox?!)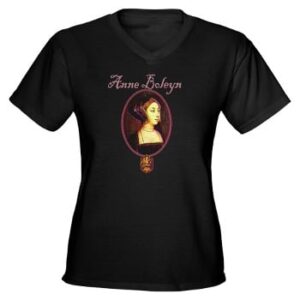 If you want to join me in my crusade to spread the truth about Anne Boleyn, or you just want a bit of fun, then here's what you can do to help TheAnneBoleynFiles mark Anne Boleyn Day 2009:-
Order this special Anne Boleyn Day T-shirt – It's sexy and classy, just like the real Anne Boleyn! Order it through us and 50% of profits will go to Amnesty International, a charity that fights for justice and works to protect human rights (shame they weren't around for Anne). Simply click on the T-shirt picture for more information.
Spend a bit of time on 19th May on our wiki site adding an article, updating a page,starting a discussion, adding a photo or your favourite Tudors clip.
Enter our special Anne Boleyn Day Competition – Write an article of between 300 and 700 words about why you think Anne Boleyn is still being talked about today/why people are addicted to Anne, and you could win yourself a pretty Anne Boleyn necklace (the bottle top pendant) or bookmark from our new Tudor jewellery range (your choice – click here to go to our jewellery page to see the prizes). Simply send your article to claire@theanneboleynfiles.com and I will pick a winner on Anne Boleyn Day. The winning article will be posted here as a blog and all other articles will be posted on our wiki site.
Spread the word – Tell others about TheAnneBoleynFiles.com by sharing our blog articles through Facebook, Twitter, MySpace etc. – see the "Share This" button at the bottom of each blog post.
Read an Anne Boleyn book – There are some great Anne Boleyn books available. My favourite has to be the biography by Eric Ives.
Curl up with a glass of wine and watch your favourite Anne Boleyn episode from The Tudors.
Together we can get the world talking about Anne Boleyn, just as much as Henry VIII!
Please leave a comment if you've got any other ideas on how we can celebrate Anne Boleyn Day.
****P.S. Don't forget to enter your article in our competition – closing date is midnight 18th May.****