On this day in history in 1755 another tragic queen, with many similarities to Anne Boleyn, was born. I know that she was not a Tudor and was not even an English Queen, but she too is a fascinating character whose life was cut short by a sham trial and charges that were completely unfounded.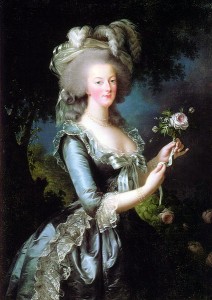 Here are some facts about this tragic Queen of France:-
Marie Antoinette was born on the 2nd Nov 1755, in Vienna, as Maria Antonia Josepha Johanna von Habsburg-Lothringen.
Her titles included Archduchess of Austria, the Dauphine of France and then Queen of France and Navarre.
She was the 15th child of Francis I, Holy Roman Emperor, and Empress Maria Theresa, Queen of Hungary and Bohemia.
Marie Antoinette was just 14 when she married Louis Auguste, the Dauphin of France in 1770.
She was known for her beauty and had blonde hair, fair skin and blue eyes.
Marie Antoinette's marriage to the Dauphine was not actually consummated until August 1777 and it is said that this is because Louis had phimosis, a deformity of the male genitalia that prevents completion of the sexual act. This was later corrected by surgery and the marriage was consummated.
Her father-in-law's mistress, Madame du Barry, was jealous of Marie Antoinette and did what she could to ruin her reputation. Marie Antoinette went from being called the "L'Autrichienne", the Austrian woman, to being called "L'Autruchienne", a play on the words "autruche" meaning ostrich and "chienne" meaning bitch.
It is said that her husband's lack of affection combined with her mother's constant criticism led to Marie Antoinette spending lavishly on clothes and gambling.
Marie Antoinette became Queen in 1774 when King Louis XV died of small pox and her husband became King Louis XVI of France.
The couple had 4 children.
Her close friendships with women like Yolande de Polastron and the princesse de Lamballe led to allegations of lesbianism and she was also accused of sleeping with her brother-in-law, the comte d'Artois.

Marie Antoinette by Élisabeth Vigée-Lebrun

The paternity of the royal couple's first child, Marie-Therese-Charlotte, was contested by the political pamphlet the Libelles and by the comte de Provence, but not by Louis himself who doted on his daughter.

Marie Antoinette redesigned and renovated the Petit Trianon, a small chateau in the grounds of the Palace of Versailles.
The couple's first son, the Dauphin Louis Joseph Xavier Francois was born in 1778 but died of tuberculosis at the age of 9 and his younger brother, Louis Charles, became the Dauphin.
Her spending habits, her purchase of the Chateau de Saint-Cloud in 1784, her Austrian heritage and the actions of her brother Joseph II in the Kettle War made her increasingly unpopular and she was seen as an empty-headed, licentious spendthrift and foreigner.
During the 1788 and 1789 Bread Crisis it was rumoured that Marie Antoinette wanted to bathe in the blood of her people.
Another nickname for Marie Antoinette was "Madame Veto" because of her husband's vetoing of measures to restrict the power of the monarchy.
The French Revolution led to the family being put under house arrest and then imprisoned in the tower of the Temple at Marais.
Marie Antoinette's good friend and royal attendant, the princesse de Lamballe, was raped and killed in the September Massacres of 1792 and her head was put on a pike and paraded around Paris.
The Royal family became known as "Capets" when the rule of the monarchy ended.
Marie Antoinette's husband, King Louis XVI, was executed by guillotine on 21st January 1793 after being charged with undermining the First French Republic.
Another nickname, "The Widow Capet", was given to Marie Antoinette on the death of her husband.
On 3rd July 1793, the Dauphin was taken from his mother and given to a cobbler to bring up in the hope of "retraining" him.

The Execution of Marie Antoinette

On 14th October 1793 Marie Antoinette was tried for treason – It was a sham trial given that she was not given any notice of it or time to prepare and the charges were based on rumour.

Marie Antoinette was charged of organising and taking part in orgies at Versailles, sexually abusing her son and committing incest with him, plotting to kill the duc d'Orleans, stealing money from the treasury to send to Austria and orchestrating the massacre of the Swiss Guards in 1792.
On 16th October, Marie Antoinette was found guilty and executed by guillotine on the same day at 12.15pm at the Place de la Revolution, now the Place de la Concorde.
Marie Antoinette's final words were "Pardon me, Sir, I meant not to do it" when she accidentally stepped on the executioner's foot.
She was buried in an unmarked grave in the Madeleine Cemetery in the Rue d'Anjou.
On 18th Jan 1815, her body was exhumed along with her husband's during the Bourbon Restoration, when the comte de Provence became Louis XVIII. Their bodies were given a proper Christian burial on 21st jan in the necropolis of French kings at the Basilica of St Denis.
There is no evidence that Marie Antoinette ever said "Let them eat cake".
An unpopular woman surrounded by scandal and rumour, a sham trial, allegations of incest and adultery, a woman with sex appeal…sound familiar?
P.S. Remember to send your Halloween Competition entries in! See Halloween Competition for details.