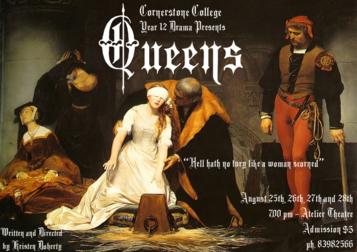 Great news for those of you who were desperate to see Kristen's play "Queens: Hell Hath No Fury Like a Woman Scorned" performed by her Year 12 pupils in Australia – it's now available to download and watch in the comfort of your own home.
Kristen sent me a copy of it on DVD and I loved it. I was impressed with the quality of her research and writing, and the way that she gave each of these women their own voice. The kids were also brilliant – I loved the malice and bitterness in Mary's voice, the funny speeches from Henry's Fool, and also Anne Boleyn and Elizabeth were excellent actresses.
Some of you have asked about the script and whether it is possible to buy it. Well, I can put you in touch with Kristen if you like, but she is hoping to publish it at a later date and it is not available at the moment. You can, however, download the performance of Queens at Movie Locker with the following links:-
Queens Act I : http://movielocker.com/2424
Queens Act II : http://movielocker.com/2388
Both videos have 'henryyoubrokemyheart' as their playback password
Kristen aplogises for the sound quality and the poor filming of some scenes, but I didn't find that it hampered my enjoyment of the play – just wish I'd been there! Please be patient as the videos may take a few hours to download – they'll be worth it though!
Note: All Rights Reserved
Copyright © 2009 – Kristen Doherty. All rights are reserved. Please contact the playwright if you wish to perform this play. You may not sell it, or reprint any part of it without written consent from the playwright. Please contact claire@theanneboleynfiles.com to be put in contact with Kristen.