I thought I was never going to get to write this today – what a day! I've been adding new products to the shop and doing various admin jobs which took forever, still here we are, better late than never!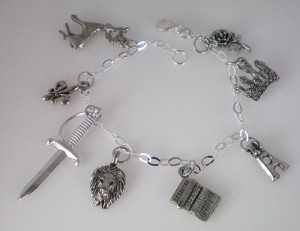 What's been going on this week and what's coming up on The Anne Boleyn Files?
New Tudor Charm Bracelets – I just love charm bracelets and now we have three new ones on the shop. Daniela has made three beautiful silver charm bracelets – an Anne Boleyn one, and Elizabeth I one and a Six wives one – all with charms to symbolise different aspects of these women's lives and characters. Made from silver and pewter they're perfect for Tudor fans and for Christmas presents.
New Anne Boleyn tiara, hair decoration and barrette – Daniela has been busy making some more replicas from the series and these three are all stunning. Check out Amethyst Pearl Barrette, Anne Boleyn Silver Onyx Tiara and Anne Boleyn Gray Pearl Headband on The Tudors Headdresses page.
This week's posts – Articles this week on The Anne Boleyn Files include Marie Antoinette, Sir Francis Weston Part 2 and Queens the Play.

Anne Boleyn Silver Onyx Tiara

Queens the Play – I'm so happy that Kristen has managed to get the DVD of her play online now for you all to enjoy. Read my article below or click the link  for more information.

The Elizabeth Files – Do check out this week's articles on our sister site The Elizabeth Files. This week, I have written about The Bisley Boy legend – was Elizabeth I actually a man? – and The Gunpowder Plot. You can also download the free report "The Myths Surrounding Queen Elizabeth I".
Coming next week – Anne Boleyn joins the crew of the Mary Rose. Yes, you did read that right! The Anne Boleyn Files has joined the crew of the new Mary Rose which means that we have committed to raising £500 by next summer to help build the new Mary Rose Museum for the ship and its wonderful real Tudor artefacts. I will give more details about this next week and how you can help us with our fundraising.
Halloween Competition – Remember to email your costume photos to my by the end of the day – claire@theanneboleynfiles.com. I will announce the winner on Monday and send out coupons then. Thanks for all the entries, you all look amazing!
Friday fun – Test your history knowledge with the weekly BBC History Magazine quiz.
Phew! What a week! Have a wonderful weekend and why not spend a bit of your spare time discussing things on our Anne Boleyn Files Forum. Bye for now!