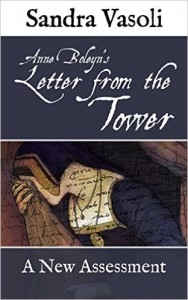 I know many of you were interested in what Sandra Vasoli had to say about the letter said to be written by Anne Boleyn to Henry VIII from the Tower on 6th May 1536 (click here to read that) so I just wanted to let you know that the kindle version of Sandi's book is available for pre-order now.
Anne Boleyn's Letter from the Tower: A New Assessment by Sandra Vasoli will be released as a kindle and paperback on 14th September but you can pre-order the Kindle version on Amazon now – click here. I am reading it now and it really is an excellent piece of detective work. Sandi's work has changed my mind about the letter!
Sandi also shares an intriguing source regarding Henry VIII's later feelings about Anne Boleyn's fall.
Here's the book blurb:
"Sir, Your Grace's Displeasure and my Imprisonment are Things so strange unto me, as what to Write, or what to Excuse, I am altogether ignorant."
Thus opens a burned fragment of a letter dated 6 May 1536 and signed "Anne Boleyn", a letter in which the imprisoned queen fervently proclaims her innocence to her husband, King Henry VIII.
This letter "from the Lady in the Tower" has divided historians in recent years, with some dismissing it as a fake. There has been no definitive study of the letter or its mysterious provenance… until now. In Anne Boleyn's Letter from the Tower, Sandra Vasoli provides an in-depth investigation of the individuals who may well have kept the letter safe for nearly 500 years, from author to its present home in the British Library.
– Did Anne Boleyn actually compose the letter from the Tower?
– Did Henry VIII regret his final tragic actions against Anne Boleyn?
Sandra Vasoli unravels the mysteries of this letter and also reveals a startling comment found buried in an age-old document which gives us a cryptic clue into Henry VIII's anguish over his second wife. The culmination of this research may well alter the accepted view of Anne Boleyn and Henry VIII's doomed marriage…
Sandra Vasoli, author of Anne Boleyn's Letter from the Tower, earned a Bachelor's degree in English and Biology from Villanova University before embarking on a thirty-five-year career in human resources for a large international company.
Having written essays, stories, and articles all her life, Vasoli was prompted by her overwhelming fascination with the Tudor dynasty to try her hand at writing both historical fiction and non-fiction. While researching what would eventually become her Je Anne Boleyn series, Vasoli was granted unprecedented access to the Papal Library. There she was able to read the original love letters from Henry VIII to Anne Boleyn—an event that contributed greatly to her research and writing.
Vasoli currently lives in Gwynedd Valley, Pennsylvania, with her husband and two greyhounds.
File Size: 4299 KB
Forthcoming Paperback page count: 84 pages
Simultaneous Device Usage: Unlimited
Publisher: MadeGlobal Publishing (September 14, 2015)
Publication Date: September 14, 2015
Sold by: Amazon Digital Services, Inc.
Language: English
ASIN: B014R7227A
ISBN: 978-84-943721-5-5
Text-to-Speech: Enabled