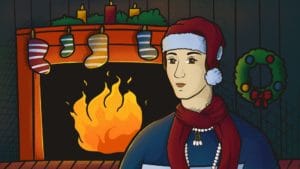 Every year, I organise an online Anne Boleyn Files Advent Calendar offering you Tudor treats every day from 1st to 24th December, and you'll be glad to know that I've done it again this year – yay!
I'd like to take this opportunity to thank the historians, authors, poets and bloggers who have kindly contributed this year. It's going to be a wonderful calendar!
Number 1 is waiting for you to enjoy – thank you to Catherine Brooks. You can access the Anne Boleyn Files Advent Calendar by clicking here or by clicking on Anne Boleyn's speech bubble on the image at the top of the website. Doesn't Anne look nice and warm?!
Please do check back every day and enjoy the daily Tudor treats.
I'm also offering some special treats on YouTube from 1st December to 24th December with my little canine helper (just two weeks ago, she was on the streets of our village!). These are on top of my "on this day" videos. Here's the first treat and please do subscribe to my channel to enjoy the videos and community posts.
Tudor Society members can also look forward to a new ebook that will be added to the Tudor Society Ebook series very soon!