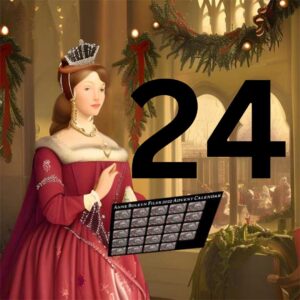 It's Christmas Eve and that means it's time for the very last treat from the Anne Boleyn Files Advent Calendar 2022.
I do hope you have enjoyed all the contributions and I just want to take this opportunity to thank all the historians, authors, bloggers and artists involved for being so giving of their time – thank you!
You can enjoy today's offering by clicking here, or on the image in this post, or on the website header. You can also catch up with any days you have missed.
Enjoy two further Tudor treats:
The final video in my "The Tudors in their own words" series – click here.
Teasel's Tudor Trivia – 24 December – Christmas Eve and the Yule Log – click here.