Last minute gifts for Tudor history lovers
Posted By Claire on December 23, 2022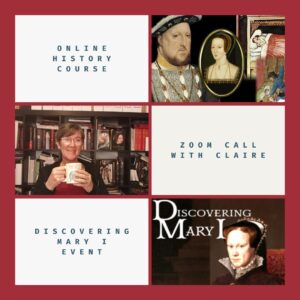 If you've left gift-buying to the last minute for the Tudor history lover in your life, or you want to treat yourself to something Tudor-y, then I have a few ideas for you:
An online history course from MedievalCourses.com – For Tudor history lovers, courses include "The Life of Mary, Queen of Scots", "The Life of Anne Boleyn", "The Roles of Medieval and Tudor Women", "The English Reformation: A religious revolution", and "The Six Wives of Henry VIII". There others too. You can find out more about the courses here and you can also purchase a gift certificate here. They are completely online and don't have a set start or finish date.
A one-hour zoom chat with me – Over a virtual coffee, we can have a lovely chat and get to know each other, we can talk Tudor, or I can answer your burning Tudor history questions. See https://www.buymeacoffee.com/AnneBoleynFiles for more information.
Discovering Mary I – This is an online event featuring 8 historians. It starts on 16th January and continues until 27th January and is completely online. We will peel back the many layers of myth and misconceptions to discover the real Mary I. I'm so excited about this. You can find out more at https://claireridgway.com/events/mary-2023/ and gift certificates are also available at https://claireridgway.com/gift-certificates/
I hope you have a wonderful festive season.