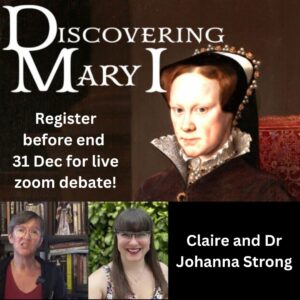 Just a reminder that you need to register for my online Discovering Mary I event before end of 31st December 2022 to join the live zoom video debate with me and Dr Johanna Strong.
Johanna's PhD thesis is about how Mary I's legacy and reputation were posthumously created, and she believes that Mary deserves to be reassessed and rehabilitated. So, for the debate, I'm going to play devil's advocate and attack Mary I's reputation as a woman and queen, and Johanna will defend Mary using her meticulous research into Mary I's life and reign.
I'm thoroughly looking forward to it. It'll be so much fun.
The zoom call will take place on Sunday 8th January 2023 at 10pm UK time/ 5pm New York time.
Fancy getting involved?
All you have to do is sign up for "Discovering Mary I" before the end of tomorrow.
The main event starts on 16th January and runs until 27th January. It's completely online and features 8 historians, all experts in Tudor history. It will include video talks, live streams and Q&A sessions, all on Mary I, plus everything will be recorded and the talks will be transcribed. You'll have lifetime access to the event resources so don't worry if you can't log in every day.
Register right now at https://claireridgway.com/events/mary-2023/ where you can also find out all the details including the schedule and what you get.
It's going to be a wonderful event.