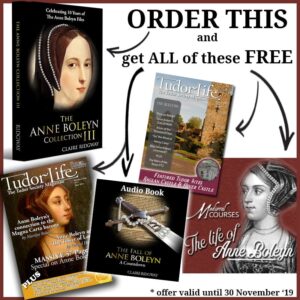 Hello! I know I haven't been posting much recently but I've been busy preparing the Anne Boleyn Files Advent Calendar as well as settling in a new dog that we've just rescued from the streets – busy, busy!
I just wanted to post a reminder about the Anne Boleyn goodies that I'm giving away with my latest book, The Anne Boleyn Collection III. They're available until the end of 30th November, so do act quickly. It's just my way of thanking my valued readers.
All you have to do is buy The Anne Boleyn Collection III before midnight on 30th November 2019 (kindle or paperback) and you can get:
"The Life of Anne Boleyn" online course (18 video/audio lessons, worth $75) which includes the audio book version of my best-selling The Fall of Anne Boleyn: A Countdown
And two digital magazines: The Boleyns Tudor Life edition from May 2019 and Anne Boleyn Tudor Life edition from May 2015.
You can order The Anne Boleyn Collection III on Amazon – click here to find it on your country's Amazon site – and then come back to this post and fill in the details in the form below. You'll find your order number in the confirmation email Amazon sent you or in the "orders" section of your account on Amazon.
I do hope you enjoy these gifts.
By the way, if you've read The Anne Boleyn Collection III, then I'd really appreciate an honest review on Amazon or Goodreads – thank you so much!
OFFER OVER NOW