8 August 1503 – Margaret Tudor marries James IV of Scotland
Posted By Claire on August 8, 2017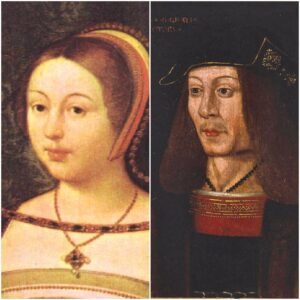 On this day in history, 8th August 1503, the formal wedding of Princess Margaret Tudor and King James IV of Scotland took place in the chapel of Holyroodhouse.
John Leland writes of how thirteen-year-old Margaret, who was the eldest daughter of King Henry VII and Elizabeth of York, was led from her chamber to the church by the Archbishop of York and the Earl of Surrey, with the Countess of Surrey carrying her train. Margaret wore a robe trimmed and lined with crimson velvet, a collar of gold and pearls around her neck and a crown on her head. Her hair hung loose down her back and she had a "very rich coif hanging down behind the whole length of the body. The thirty-year-old king was dressed in "a gown of white damask, figured with gold and lined with sarcenet. He had on a jacket with sleeves of crimson satin, the lists of black velvet, under that same a doublet of cloth of gold, and a pair of scarlet hose. His shirt embroidered with thread of gold, his bonnet black, with a rich balay, and his sword about him."
The marriage ceremony was performed by the Archbishop of Glasgow and the papal bulls were read by the Archbishop of York. The trumpets blew "for joy" before the royal couple walked to the high altar for the orations and litany. After that, there was Mass, the gospel and customary offering before the new queen was anointed. Leland records how the king then gave her the sceptre and Te Deums were sung. "Two prelates held the cloth upon them during the Remnant of the Mass" and then the Lords brought in bread and wine "in rich pots and rich cups". After the service had finished, the king processed with the queen back to her chamber and then went on to his own. Later that day, there was a celebratory banquet of many courses and dishes. The dinner was followed by music and dancing and then the king and queen retired for the night. Edinburgh celebrated with bonfires through the town.
Margaret and James were married until the king's death at the Battle of Flodden, between England and Scotland, on 9th September 1513. The couple had six children together, but only one survived infancy, their son James who became King James V when he was just one year of age. Click here to read more about Margaret Tudor.
Trivia: There is a link between this royal wedding in Scotland and the Boleyns. Thomas Boleyn was part of the large retinue led by his father-in-law, Thomas Howard, Earl of Surrey, that escorted Princess Margaret on her journey to Edinburgh in 1503 and he would have attended the wedding and the celebrations. Click here to read more about the journey to Scotland.
Notes and Sources