Posted By Claire on October 18, 2010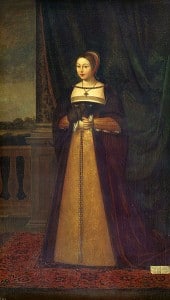 On this day in history, 18th October 1541, Margaret Tudor died of a stroke at Methven Castle, Perthshire, Scotland. She was laid to rest at the Carthusian Priory of St John in Perth, which was later destroyed.
Margaret Tudor was born on the 28th November 1489. She was the eldest surviving daughter of Henry VII and Elizabeth of York, and was the sister of Henry VIII. After lengthy negotiations, Margaret was promised in marriage to James IV of Scotland in the Treaty of Perpetual Peace between England and Scotland on the 24th January 1502. The couple were married by proxy and in 1503 Margaret travelled to Scotland, stopping at various places, including York, on the way. James and Margaret married properly at Holyrood Abbey, Edinburgh, on the 8th August, and poet William Dunbar wrote of the occasion in his poem "The Thistle and the Rose".
James IV and Margaret Tudor went on to have six children, including the future James V of Scotland, father of Mary Queen of Scots. James died at the Battle of Flodden in 1513, a battle between Scotland and Margaret's brother's forces. For a time, Margaret acted as Regent and although she had opposition, being the enemy's sister, she managed to reconcile Scotland and England.
On the 6th August 1514 Margaret secretly married Archibald Douglas, 6th Earl of Angus, a member of the powerful Scottish House of Douglas. When news of the marriage got out, it was opposed by the nobles and in September 1514 the Privy Council ruled that she had acted against the terms of James IV's will and could no longer act as Regent. She was replaced by John Stewart, 2nd Duke of Albany, who took custody of her sons, James and Alexander.
In 1515, Margaret and her husband fled across the border and was taken to Harbottle Castle by Lord Dacre, Warden of the Marches. There, on 8th October 1515, she gave birth to a daughter, Lady Margaret Douglas, the future mother of Henry Stuart, Lord Darnley. A couple of months later, Margaret received news that her son, Alexander, had died at Stirling Castle. It was also around this time that Margaret's husband, Angus, abandoned his wife to return to Scotland and make peace with Albany and escape a charge of treason. Margaret, on the other hand, continued her journey on to London where her brother, Henry VIII, arranged lodgings for her at Scotland Yard in Whitehall.
After a treaty was negotiated between Albany, Cardinal Wolsey and Henry VIII, Margaret returned to Scotland in 1517, only to find out that her husband had been living with Lady Jane Stewart in her absence. Margaret decided that she wanted a divorce and sought her brother's help. However, Henry VIII did not believe in divorce (at this time anyway!) and was also unwilling to make an enemy of his brother-in-law. Margaret carried on fighting for her divorce, even enlisting the help of Albany, who even spread rumours that he and Margaret were lovers. In March 1527, Albany finally convinced Pope Clement VII to grant Margaret's petition and Margaret went on to marry Henry Stewart, 1st Lord Methven, on 3rd March 1528. However, the marriage was not happy for long. Margaret had managed to pick another unfaithful husband, so she again fought for a divorce, although this was not supported by her son, King James V. Margaret was later able to reconcile with Methven.
On the 12th June 1538, Margaret's son, James V, married Mary of Guise by proxy, and when Mary arrived in Scotland she became good friends with her mother-in-law. Margaret died on the 18th October 1541 and it was to her great-grandson, King James VI of Scotland, that the Tudor crown passed on the death of her niece, Elizabeth I, in 1603. On the 24th March 1603, James VI became King James I, uniting Scotland and England, and beginning a new dynasty, the House of Stuart.