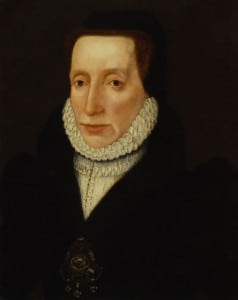 Lady Margaret Douglas, Countess of Lennox, was born on this day in 1515. Margaret was the daughter of Margaret Tudor, Queen Dowager of Scotland and sister of Henry VIII, and her husband, Archibald Douglas, 6th Earl of Angus.
Margaret was born at Harbottle Castle in Northumberland, home of Thomas, 2nd Lord Dacre, because her mother went into labour as she fled Scotland to go to Henry VIII's court in London. Margaret was baptised on 9th October, but her mother was ill after the birth and wasn't well enough to travel onward to London until spring 1516. Mother and baby stayed in England until June 1517, when Henry VIII sent his sister and niece back to Scotland.
Also on this day in history, 8th October 1536, during the Pilgrimage of Grace lawyer Robert Aske called the people of Beverley, Yorkshire together, asking them to be true to "God, the king, the commonwealth" and "to maintain the Holy Church". Click here to see a timeline of the events which made up the rebellion.