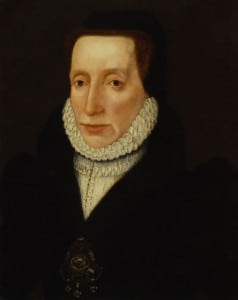 Lady Margaret Douglas, Countess of Lennox, was born on this day in 1515. Margaret was the daughter of Margaret Tudor, Queen Dowager of Scotland and sister of Henry VIII, and Archibald Douglas, 6th Earl of Angus. She was born at Harbottle Castle in Northumberland, home of Thomas, 2nd Lord Dacre, because her mother went into labour as she fled Scotland to go to Henry VIII's court in London. Margaret was baptised on 9th October, but her mother was ill after the birth and wasn't well enough to travel onward to London until spring 1516. Mother and baby stayed in England until June 1517, when Henry VIII sent his sister and niece back to Scotland.
Margaret became the focus of a custody battle when her parents argued over Archibald keeping a mistress. Archibald took custody of Margaret for many years, but in 1530 she joined the household of Henry VIII's daughter, Mary, at Beaulieu. The two, being close in age, became close friends, and the friendship stayed strong even when Margaret became Henry VIII's heir presumptive, when he made his daughters, Mary and Elizabeth, illegitimate.
Margaret was said to be a beauty, and when she was acting as lady-in-waiting to Queen Anne Boleyn, she fell in love with Lord Thomas Howard, son of Thomas Howard, 2nd Duke of Norfolk. The couple became secretly betrothed, but were split up by a furious Henry VIII, who threw them both in the Tower. Margaret was released when she became ill, but was sent to Syon Abbey and kept there under house arrest. She was released on 29th October 1537, but her beloved died in the Tower on 31st October.
Margaret went on to serve as a lady to Anne of Cleves and Catherine Howard, but was sent back to Syon for a while when she fell in love with Catherine Howard's brother. She acted as a bridesmaid at the marriage of Henry VIII and Catherine Parr in July 1543 and then, in 1544 she married Matthew Stewart, 13th or 4th Earl of Lennox, a descendant of James I of Scotland and an influential man. The couple's first child, Henry, Lord Darnley, died in infancy in 1545, but his namesake, Henry Stuart (Stewart), Lord Darnley, who was born just a week after his brother's death, survived and is known for his marriage to Mary, Queen of Scots and his murder in 1567. In total, the couple had eight children.
Margaret was cut out of Henry VIII's will after an argument, and kept to herself during the Protestant Edward VI's reign. However, she was treated well during the Catholic Mary I's reign, and attended Mary's marriage to Philip of Spain as Mary's chief lady. Margaret viewed Elizabeth I as illegitimate and supported Mary, Queen of Scot's claim to the throne, so was ecstatic when her son became betrothed to Mary. Elizabeth was not happy, and as she could not get at Darnley to punish him, she threw his mother into the Tower. On 19th February 1567, the imprisoned Margaret was told that her husband and son had been killed. It was actually a mistake. Her son had been killed, but Lennox was still alive. Margaret was in such a state that a royal physician had to be fetched, and she was released to Sheen. Lennox joined her there after the acquittal of James Hepburn, 4th Earl of Bothwell, for their son's murder. They then moved to Coldharbour, a property given to them by Elizabeth.
Lennox was killed on 4th September 1571, when he was shot at Stirling Castle, and in 1574 Margaret was allowed to visit Scotland accompanied by her only living child, Charles. On the way, Charles met and fell in love with Elizabeth Cavendish, daughter of Lady Shrewsbury (Bess of Hardwick). The couple married and had a daughter, Arabella, in 1575. On hearing of the news of the marriage match, Elizabeth I had thrown Bess and Margaret into the Tower, but Margaret was released in autumn 1574, and went to live with her son and his new wife in Stepney. Unfortunately, Charles died of tuberculosis in 1576, and his mother was griefstricken. She died on 9th March 1578, after being taken ill at a dinner party attended by Robert Dudley, Earl of Leicester. Margaret was buried in Westminster Abbey, in the Henry VII Chapel.
Extract taken from On This Day in Tudor History by Claire Ridgway.
You can read more about Margaret Douglas in The King's Niece and the Fall of Anne Boleyn – Guest Article by Leanda de Lisle