Happy Epiphany! Happy Kings' Day!
Posted By Claire on January 6, 2023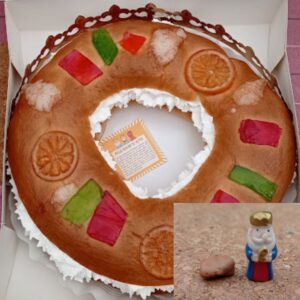 Today, 6th January, is Epiphany or Kings' Day or Three Kings' Day – Happy Epiphany! Feliz día de los Reyes!
Epiphany is a huge celebration here in Spain. The Three Kings visited our village last night with sweets and presents, and we've been tucking into our Roscón de Reyes, our special Kings' Day cake. Unfortunately, I had the bean in my piece, which means I have to pay for the cake next year, but then I had another slice and it contained a king figurine so I got to wear the paper crown that came with the cake and was crowned king of the party – yay!
Here are a couple of videos I did on Twelfth Night, the traditions associated with it, how it was celebrated by Tudor people and how the Tudor court marked the occasion…
And on this day in 1540, King Henry VIII married Anne of Cleves…