28th July 1540 – Two executions and a wedding
Posted By Claire on July 28, 2017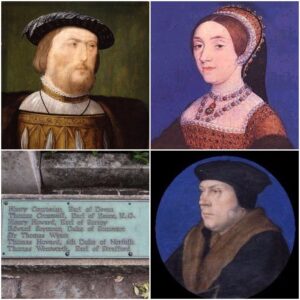 This day in history, 28th July 1540, was a rather busy one. Thomas Cromwell, the king's former right-hand man, and Walter, Lord Hungerford of Heytesbury, a client of Cromwell, were executed by beheading and King Henry VIII married for the fifth time.
On 28th July 1540, at Oatlands Palace, in Surrey, King Henry VIII married his fifth wife, Catherine Howard, daughter of Edmund Howard and Jocasta Culpeper, and niece of Thomas Howard, 3rd Duke of Norfolk. The groom was forty-nine years of age, and the bride may have been just sixteen1, and the wedding was a low-key affair, with Henry's fourth marriage only just having been annulled. It was kept quiet for over a week, and Catherine did not appear in public as queen until 8th August.
While Henry VIII was busy marrying wife number 5, his former chief minister Thomas Cromwell, Earl of Essex, was being beheaded on Tower Hill. Cromwell had been arrested on 10th June 1540 at a council meeting, and a bill of attainder was passed against him on 29th June 1540 for the crimes of corruption, heresy and treason.