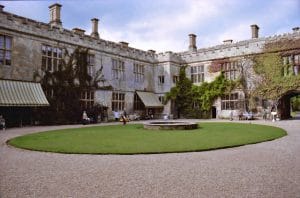 On this day in history, 30th August 1548, Catherine Parr, Queen Dowager and wife of Thomas Seymour, Baron Seymour of Sudeley, gave birth to a healthy daughter at Sudeley Castle, Gloucestershire.
The little girl was baptised 'Mary' after her godmother, the Lady Mary, who was Catherine Parr's stepdaughter by her marriage to King Henry VIII. Unfortunately, Catherine Parr died on 5th September 1548 of puerperal, or childbed, fever.
Picture: Courtyard of Sudeley Castle, Anthony O'Neil, geograph.org.uk.